His name was John
November 6, 2009
There was a time in my life when I thought that I was feeling too much that I was about to explode. I kept writing and writing until nothing made sense anymore. But, the thought and feeling of senselessness made me think about him a little bit more. Because, those were one of the inevitable times that you somehow find your best friend's image dangling in corners of your mind.
We shared a common interest that somehow bound us together then,now and probably forever. And soon enough, the fondness and gaiety that I feel every time I'm around him became a sweet,sweet feeling that I was too stubborn to shake off.
We didn't have any classes together, because he's a year older than me. And every time I feel boredom in some of my classes, I think of him and suddenly, I fall into a world I never thought existed.
It's ordinary, right? A random girl falls for her best friend? It's sort of like every other girl's story these days. But what if the girl has a boyfriend she loves, then suddenly, she feels this sudden emotion for her best friend, what then? A dramatic twist to an average story.
I thought about this after the first time I sung to him. How he didn't face me for a few days. How he didn't talk to me when I started a conversation. How I felt sad and alone everyday in my classes. It seemed like he never existed, that guy named John. It made a hole on my heart, and somehow, no other guy, not even my boyfriend can patch up this whole he left.
He resurfaced into my life, a few days later. And when that day came, it changed my views about him, my friends and about myself.
"I like Chloe", he said to me. And when he said her name, I felt the admiration in his voice. I felt his heart jump and beat ten times faster. I felt his urge to dance at the thought of her. I felt him happier than he ever was. And at that same time, I felt my heart break into a million pieces. "You think she'll like me back?" he asked me with wondering eyes. I shrugged as I held back my tears. He smiled, which means I smiled. He walked away. In a distance, I could have sworn he skipped like a little girl. I sit there, motionless, thinking about him and...Chloe. The girl who I poured my thoughts to, the girl I'll trust with my life,the girl I first told about John.
It felt bittersweet when I tried to let go of John. You see, we're not best friends anymore. I'm not sure if we're even friends now. But, that common interest still bonds us as acquaintances. Random thoughts of him still come into my mind when I'm in class. But this time, he's not the prince I thought he was. And I miss that about him
I'll write about John forever. Maybe I'll even write him a letter when he graduates. But for now, it's better if I stay away. It's better if I keep my door closed. We both need closure, John and I.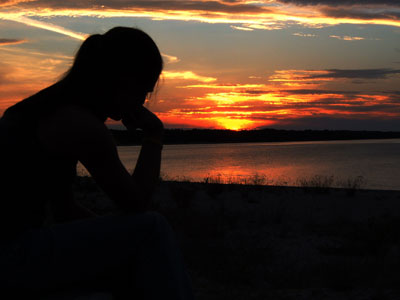 © Hilary L., Rogers City, MI