Forgiveable
September 29, 2009
I had just gotten home from soccer practice, and I was walking up the front porch steps on my cedar home. I was on the front porch staring through the sliding glass door when I saw my new mother and siblings laughing and playing carefree around the dining room. I was frozen altered in my step, staring blankly through the door; lights were shining in on the happiness and laughter.
Memories flash through my mind, memories I thought I had forgotten a long time ago. The lights turn to gray, as the happiness vanishes from my mind.
I see Daddy, 16 years ago, walking down the stairs. He has his suitcase in his hand. I'm standing at the door, screaming to take me with him.
"Stay with your mother, Sarah; it's where you belong."
I am only a year old, but the image fits perfectly inside my head. He turns and walks away, never looking back, listening to my helpless cries. This was my worst nightmare, for my daddy to leave me behind, to leave me with my mother.

Soon after, we pick up and move, my sister Lillian, mother, and I. She has a new boyfriend. We stay for a while, but it doesn't last very long until we are on the move again, living with another one of her deadbeat boyfriends. Mother had the worse taste in men, every one knew that, and no one would deny it.

I grow older. Daddy always tells me he'll come to see me. So I wait outside all day long, waiting for daddy's black GMC pick up to pull into the drive, hand waving wildly out the window. He never comes, I always wait and wait, but he never comes. I fall into a dark place; I scream for help, scream so loud to get me out of the dark, to see the light, to breathe fresh air. But no one helps.
Daddy gets married, and the night before his wedding, I stayed at his house with Lillian, the bride's daughter, and the bride to be. She comes into my room late that night, wakes me from my sleep, and drags me from the bed. I can smell whisky, fresh, on her breath. A pail is sitting on the kitchen floor; she dropped me next to it.
"Clean the floors!" The slur of her words sickens me, I didn't move. She strikes me hard across the face. Frightened tears ripple down my 8 year old face. I grab the cloth inside the pail, burning the flesh on my hands, but I don't care. I scrub as she asked, terrified to disobey. The next morning was like nothing happened. They said their I do's. I kept my mouth shut. I cried. My dad thinks they are tears of joy, I let him believe it. I can't tell the truth. It wrenches inside me, pulls tightly at my lungs, it won't come out.
That was the last I saw of my Daddy; he was never the same. She took my Daddy away from everyone; he just let it slip through his worn fingers, his family, and everything he was.

My mother got married years later. Once again, it didn't last long; everything fell to pieces, crumbling right before me. She moved us for the 23rd time. We moved in with her best friend. This was the first time I lived with my mother without another man, but it didn't take long for her to ruin things again. I was waiting for her to say the word, the putrid evil words, that we were moving again. I came home from school one day to find our little downstairs apartment empty. Everything was gone. I observed the empty space; disappointment filled my pumping veins with anger. Then I walked into my room, waiting for the emptiness, except my room was full. Mother had picked up and moved on, but this time she didn't take me with her, she left me behind, her 16 year old daughter to fend for herself. Mother always did this, left with a new man and I'd have to find my own place to stay. But this time was different I had a place to stay. Kelly took me in, with open arms, and an open heart the size of the universe. She calls me her own, and I call her Mom. She is the mother I have always prayed for, but God never seemed to listen. I needed someone to show me to live again, to be a mother, a helping hand. She plays the role of my mother, the role that I had lost long ago.

Lights begin splashing against the window, colors, and the laughter of my new family fills the gentle air. My eyes smile at the reality of my dream. The past follows me, wherever I go. But I open the sliding glass doors, and step inside off the porch with my new family, happy that I'm finally home.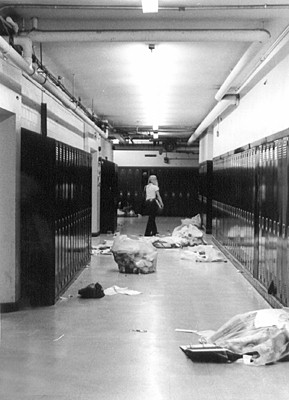 © Halsey S., Marblehead, MA