Home?
September 22, 2009
I slept for two weeks. Or at least, that's the way it felt to me. I hadn't slept a wink on the eleven-hour flight from home to here and that was a trillion napless years to a just-turned-five-year-old like me. When I woke up, confused and alone in a small room, I instinctively faced the only familiar thing: the sun. The sun's hot rays shone down brightly on me and I lay there, dazed, when it all came back to me. I sat up with a start. I was in Munich, Germany! And I'd be here for the next two months.

"Jacqui!" Mom called, "It's time to get up, sweetie, it's four in the afternoon already!"

"What!?" I squeaked, tumbling out of my sheets and leaping to my feet. I was clad in my favorite red Oliver & Co. pajamas. Clutched tightly in my hand was my favorite toy cat, Oliver himself. His fabric was faded and his tail ratty, but he was mine and I loved him. "What?!" I squeaked again, half hysterical. I'd never slept that late before in my life and it was disorientating. "It can't be four! I've never slept that late before!" My mom, standing in the doorway, laughed.

"Sweetie," she said coaxingly in the manner of an adult speaking to a little kid. I felt a twinge of annoyance. I wasn't a little kid or anything – I was five years old! I'd start kindergarten in the fall and everything. "It's okay, you're just jet lagged."

"Jet lagged?" What was that? I'd been on a jet before, I knew that. The plane we'd taken to get here was a jet. It had been so huge, I thought I could fit everyone in Canton in it. Certainly, it was the biggest plane I'd ever ridden in my life and I'd been in the air constantly since I was three months old. My aunt was even a flight attendant. No, I was no stranger to the world of flight, but I wasn't sure just what this 'jet lag' was. I stared at my mom quizzically. Again, she laughed.

"It was a late flight and time is different in Germany. In Europe, actually," she explained, "We're six hours ahead."

Again, I was reduced to staring.

"That means that even though its 4:00pm here, it's really 10:00am back at home." Mom finished with a smile.

"Oh," I scoffed, trying to act as though I'd already known that. "I knew that." She smiled knowingly and I rolled my eyes. Parents!

I went through my day bewildered at the intermix of the familiar and the strange – through the window, a green pine tree swishing in the wind, normal as anything I'd ever seen, and on the T.V. screen people speaking German. I stared incoherently at the screen and I didn't understand a single word. It was so strange.

It was all so bizarre to me. It took me a week to finally settle in and slowly, I got used to the foreign voices that had originally felt so harsh and strange. Somehow, they felt familiar. Safe. And somehow, I felt like I loved Germany. And just maybe, maybe this was home.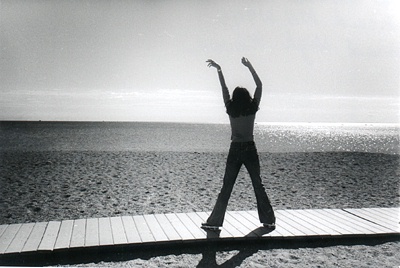 © Colleen F., Marblehead, MA