Weka
June 27, 2009
I was always close to my first cousin Ana, we always called her Weka. But when she was diagnosed with Leukemia, things were never the same.
It all started when her son, Fernando, went to the hospital and was treated for multiple mental disorders, like tourettes, Weka was never the same after that. How could she be when her only son is in the hospital and the future continues to look dimmer each passing moment? Though the family had to continue to live on and Weka had to continue work.
I remember it so clearly, I had just been picked up from school by my mom, I was a freshman in high school, and while we were in the car she told me that Weka had gotten sick and was in the hospital. I thought nothing of it truthfully, I thought she would get better soon and everything would be fine. I couldn't tell you how wrong I was.
Days passed and she was still in the hospital, I was so caught up in school work and problems I had, that I didn't understand the severity of the situation. More days passed by and she still wasn't better, most of the adults in my family had been visiting her and it was not quite time for the children to see her. I finally heard from my mom that Weka had been diagnosed with Leukemia and I had no idea what it was or how deadly it could be. She told me how it attacks the white blood cells and other things that I'm still not completely sure of. That's when I finally came to the realization that she could really die.
It was my turn to visit her and my mom warned me about how the treatment for Leukemia makes the growth of hair slow and makes it all fall off, so I should be gentle. Of course I'm going to be gentle! My cousin is dying and I would never want to say or do anything to make her feel worse. We walk through the cold hospital halls, drenched with anxiety and agony, until we reached her room. I walk in. "Hi Kevin" (that's me) she says in the saddest voice I have ever heard in my life. On the verge of crying, I walk up and give her a hug, not paying any attention to her hair, or lack thereof. "I thought you were never going to visit me" she says, forcing me to release a tear while I look at the most depressing site I had ever seen. "Of course I'm visiting you, I love you, Weka" I said, trying to relieve some pain from her. She had this Child-like glow to her, as if she had gone to the past and brought her inner child back, if you get what I mean. We talked for a few hours and it was time to leave, I said goodbye, held in my feelings, and left.
For the next couple months, I visited her on and off and things were starting to look up. She had been released from the hospital with strict guidelines to follow, in order to stay healthy and safe. One week out of each month, she had to return to the hospital for treatments and checkup. She dreaded that. I don't blame her. But after a while, she started to build up too much confidence in herself and wasn't following all of the rules that she had been given. It was a huge mistake that would lead to disaster.
The lack of precautions sent her back into the hospital. Only this time, she was asleep. Now by asleep I mean a coma-like symptom in which she could not hear, feel, see or do anything for that matter. It would not look good from here.
It was another one of those stupid typical days at school, with your typical teen problems, and typical homework issues. Though I didn't foresee the unreal evening I was about to encounter. My cousin Elizabeth had been living with us for a while, she was also Weka's sister, she had picked me up from school that day and when we got home, she received a call from her mother. The call was about Weka. There was nothing left that the doctors could do. It was official. My cousin was going to die.
I couldn't imagine the sadness that Elizabeth was going through at that moment. All I knew was that I was going to lose the most loving cousin anybody could ever ask for. We rushed to the hospital and on the way there she asked me if I was doing okay, I said yes and that it took a little longer for these kinds of things to sink in for me. I was telling the truth. We arrived at the hospital, we walked through the hallways, and death seemed to be everywhere. It was probably just the heat of the moment. We got to her room and most of our family was already there. I looked at Weka and saw a lifeless body. She had been sleeping for two weeks and she was legally, fully disabled. The only thing keeping her alive was the machine pumping air in and out of her. That's when it hit me, watching my family tear and looking down at my cousin who has been there for me my entire life, through school issues and more, she was dying, and I would never be able to talk to her, see her, or tell her how much I love her, ever again.
We sit in the hall, as my aunt (Weka's mother) fills out the release papers. My family is tired and depressed. We decide to go to a prayer room in the hospital. Once there, we pray for her and we feel it's best if Weka's son tells his younger sister, that their mom is dying. After he tells her, her little face turns from joy, to the saddest face you ever saw and we began to cry.
After an hour or so, it's time. The doctors call us all in. We gather around the bed. The doctor comes in and cuts the air supply and the machine cords that kept her alive. My family begins to cry harder now. We say goodbye. I notice that someone is missing. My mother is nowhere to be found, and she is not answering our phone calls. The only thing I could think of, as horrible as it sounds, is that my mother might have died as well that night. She finally answers and all I can say is "come to the hospital, Weka is leaving us" and as I utter out those last few words, I begin to cry. I cover my face in my shirt and two of my family members hug and comfort me while they cry as well. We hear the machine begin to make a horrific sound. The sound that signals when somebody is dying. It makes us cry harder. We lost her.

I will never be the same after that night, the weeks following, our family went through depression, I held it in. But I died inside that night. My only regret I have is not visiting her more often, and telling her how much I loved her every day. Because when you lose someone very close to you, you lose a part of yourself. And I guess it really is true that you don't know what you have, until it's gone.

I LOVE YOU WEKA, always will.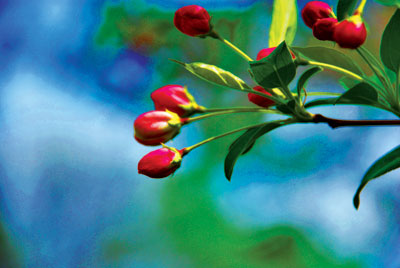 © Hannah B., Princeton, IL