My Wrestling Career
October 16, 2019
It was my first wrestling match ever. I had no idea how I would do, but my dad had a perfect image. He was telling me how great I would do. I knew I would succeed because he had confidence in me. As I got onto the mat and locked up with my opponent, I had no idea what to do. That's when I hear my dad yelling "headlock", so I threw it, doing all the steps my dad, and coaches have shown me. I had my opponent down, but I couldn't pin him. I slowed down, and listened for my dad's instructions. He was telling me to fix my positioning, and to lift his head while I looked to the ceiling. So I did it, trusting him. I The whistle blew, the ref smacked the mat, and I won. My dad and everyone else was cheering for me. I won my first ever match. My dad was super proud of me, and I was told congrats by everyone who was there for me. I know I couldn't have won without trusting and listening for my dad. Even though all he was doing was telling me to fix one little thing, it was everything I needed to win my match.
A few weeks later, I was preparing for another tournament. I was upset that I had to wrestle in a lower bracket than I wanted. I thought I had proven myself to deserve the 110a spot because I had been working so hard. I was super excited for Brady getting the spot, but I knew I was deserving of it. Brady and I continued to cheer for each other. We didn't allow a coach's decision come in between our friendship we developed over the season.
My last match of the day was my hardest. Tournaments always have placement matches at the end, so we all line up, shake the other wrestlers hand in front of the audience, then wrestle for our placement, in a final match. I thought it would be a cake walk, wrestling and winning that last match, but man was I wrong. My opponent was a lot tougher than I thought. As I wrestled for my first place medal, there was blood, sweat, and at the end, tears. I won in a dogfight; in the final seconds of the match, I pinned my opponent. I sprung up in excitement after hearing the referee smack the mat. I had just won my first, first place medal.
Those matches happened my first year wrestling, in seventh grade. Now I'm going to fast forward to show how different my first match ever was, compared to my first varsity match. Now my first varsity match was a lot different. We were at Chippewa Hills Invitational, my first match was against the reigning state champ. No one told me how to wrestle against him, they just told me "wrestle your way", and threw me onto the mat. I got pinned in a pitiful twenty four seconds. That is one match I will never forget, and I lasted longer on the mat with him than anyone else that day.
Later that season, I had the chance to go wrestle at a JV tournament. I resented taking the opportunity; I wanted to go wrestle at the Varsity tournament. I wrestled the whole tournament that day, with fight in my heart, to show I would earn a varsity spot. I wrestled with passion, to have fun, but most importantly, to win. I went undefeated and took first place. I was really excited, I didn't face any really good kids, but they weren't "scrubs" either. Even though I won, it was one of my biggest turning points. This is where I discovered I had to get better to wrestle on Varsity.
The next season, I decided that I would start working on my maturity and bettering my technique. My shot was really bad and I couldn't sprawl if my life depended on it. My team and I had one big problem though. We didn't have a coach.
We had a few captains do some searching, we found an assistant coach. His name was Dillon Stripplin, we called him Strip. Strip was the most recent state placer in our school history. In order for Strip to even get the job, the sign up sheet needed 25 or more wrestlers, so we went recruiting. It took us 2 weeks to the start of the season, but we got it. Now we needed a Head Coach.
Three days before the season is set to begin, we got the news that we had a Head Coach. We were scheduled to meet him after school Friday that week. We came into the auditorium, and met him. His name was Tad, he wrestled at Lakeview, and coached at our rival, Harper Creek. He was cool I thought at first, but then I was like, "He's okay I guess." He definitely was not a team coach, he would rather coach a few kids, and not work with the rest of us. He didn't like us to wrestle our own ways, he wanted to try and change us kids who have wrestled for 3, 5, 10 years. He turned a few of our teammates from GOOD wrestlers, to mediocre wrestlers. Long story short, I finished .500, with a 15-15 record, and an 0-2 postseason record due to not being coached in what I thought was the best way. Along with the lack of time we spent in the weight room.
For this upcoming season, it's gonna be different. My team and I are gonna be more of a team. We're gonna put in work for everyone to be in the weight room, in or out of practice. My goal as a captain for this upcoming season, is to get at least 2 people in the wrestling room to go to states. We have Strip back, but right now we have no head coach. Until the season begins, most of us wrestlers are doing fall sports. We all have a champion mindset. I know all of us have the heart, and want to go to states. We need to win.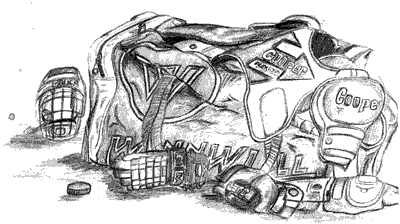 © by Casey C., Rockport, ME