Lebanese Love and Generous Grocery Giving
February 24, 2017
My great-grandparents, Jamila and George, arrived to the U.S. from Beirut, Lebanon in the early 1900's. They were both fairly young at the time, but their families migrated to the U.S. in hopes of a more promising world. They thought that the U.S. offered better opportunity and they considered America to be a rich country. They migrated over to the U.S. by boat with many other Lebanese people. They were in the steerage of the boat, meaning they were of the lowest class. When my great-grandparents arrived in the U.S. they spoke little to no English. They had to work extremely hard to learn the English language in order to become successful and survive in their new country.

On September 9th, 1927 Jamila gave birth to my grandmother, Gloria Cecelia Thomas. My grandmother, Gloria was raised in the flats of Crookston, Minnesota, in a village-like setting with her two older brothers, Mike and Raymond. Prior to my grandmother's birth, her older sister, Cecelia died of unknown causes at the age of two, hence my grandmother's middle name, Cecelia. In 1937, when my grandmother was 10, her family moved to Grand Forks, North Dakota. In Grand Forks, they lived in a two story house. Gloria's mother Jamila continued preparing many Lebanese dishes. One of the popular dishes she prepared was called Kibbeh.. Saad Fayed, a middle eastern food expert said, ". . . Kibbeh is made of bulgur cracked wheat, minced onions, and lean ground beef, lamb, goat or camel meat and topped off with spices, like cinnamon, nutmeg, allspice and clove." (Fayed). Cracked wheat is a very common ingredient in Lebanese dishes, and my great-grandmother, Jamila cracked her own wheat, freshly picked from her garden. My grandmother was fairly young during the Great Depression, but she does remember some details about the time. According to the Great Depression and New Deal Almanac, "the worst years of the Depression ran from 1929 to 1933." (Hanes 15). Gloria was around the age of five during this time, but remembers her parent's rationing food, and having conversation about there being no work. Her father cleaned streets, and her mother cleaned houses to make ends meet at the time.

Arabic was my grandmother's first language, but eventually she was taught English through her parents and schooling. Throughout her whole childhood, Gloria dressed very modestly; she wore long dresses sewn by her mother, because wearing slacks as a woman was unheard of during that time period. When attending school she wore a school uniform; a navy blue skirt, with a white blouse. She met her best friend, Bernice Miller, her freshman year of high school. My grandmother and Bernice spent a lot of their time together, going to each other's houses, and having fun out of school. Gloria graduated high school with her best friend Bernice in 1945. When Gloria turned 18, Bernice's older brother Donald took interest in her and he took her out on multiple dates. The summer after graduation, Gloria and Bernice began to work at a department store called Herberger's. Gloria worked there for about 5 years, with her best friend by her side.

After four years of dating, my grandmother fell in love with her best friend's brother, and married Donald Miller in 1951. As newlyweds, Donald and Gloria started their own grocery business called Miller's Foods. Together, Donald and Gloria lived in the upper story of a small house with their business just below them. They did so until they decided to start their family. Miller's Foods was one of the first grocery stores in the Grand Forks area. It rapidly grew into a very successful business. Eventually, Don and Gloria expanded their business to new locations all around the states of North Dakota and Minnesota. They then moved into a home where they would extend their family, having six children.
The grocery store was really starting to take off. The aisles were filled with an abundance of groceries, and happy customers weaved through the aisles, amazed at all of the packaged goods. Employees worked long days in the store. There were meat cutters, bakers, and cashiers working hard for the success of the business.

Gloria Miller stood by the frosty window in the living room of her house, three of her six children were playing out in the sticky, cold January snow, and she couldn't help but smile seeing her children, frolicking and enjoying the chilling winter weather. Suddenly the door opened, and in walked her husband Don, who had been working at Miller's Foods all day. It was twelve o'clock in the afternoon, but she could see the exhaustion on Don's face, but still he greeted her with a smile. He had been at the store since four that morning, working hard to make sure the business was running just as he planned it to. Don came home everyday around this time for a quick lunch, and a nap. Gloria had prepared him a hot meal to eat before he headed back to the store. As he sat down at the table, she set his plate down in front of him and began pouring him a cold glass of milk.

"The Maendell's are coming in tomorrow afternoon to clean the bakery for us." Don said to Gloria.

The Maendell's were a family of Hutterites that lived in Fordville, North Dakota. "Like the Amish and Mennonites, the Hutterites are a denomination of Anabaptism . . ." ("Facts About Hutterites"). The Hutterites followed the rules of anabaptists; they don't believe in baptizing at a young age, they are extremely non-violent, and strongly believe in growing and producing their own goods ("Facts About Hutterites"). The Maendell family was very close-knit, and hardworking. They provided the local Miller's Foods stores with farm fresh eggs, and did miscellaneous work around the stores Gloria and Donald had in town. Whenever the stores needed cleaning the Maendell's would bring in a crew of workers and they would clean the store from floor to ceiling, doing very thorough work. Gloria and Donald were very grateful for the work they did as the Hutterite colony was grateful for the Miller's as well.

"Oh good. Those Maendells always do such great work for our stores." Gloria said to Don with a look of gratitude.
Don returned to the store after talking with Gloria and the kids for a while and finishing his lunch. He didn't return home until seven thirty that night and soon the day was done. The next day flew by. All day, Gloria couldn't help but think of how grateful she was for the Maendell's. She was so thankful for them always helping to keep the stores as cleanly as possible. Little did Gloria know the Maendell's would soon be very grateful for the Miller's; more than ever before.

Don once again got home that night around seven o'clock. Gloria and the kids greeted him with excitement. The cold rushed through the door until it was finally closed. All eight of the Miller's sat at the table eating dinner that night when suddenly the phone rang.

"What an odd time for someone to be calling." Gloria thought to herself.

She rose from the table and reached for the phone. She answered and after a short moment she let out a gasp, she quickly motioned for Don to come to the phone. Don got up from the table and rushed over to the phone. Worry filled Gloria's face and tears welled up in her eyes. The Maendell family decided to go ice-skating to celebrate their finishing of cleaning the Miller's Foods bakery. They started a fire to help keep them warm, and their six year old daughter fell in the fire and was suffering third degree burns all over her small, fragile body, and they were counting on Gloria and Don to help them. All six of the Miller kids looked at their parents from the table, worry prominent on all of their faces. Gloria had to make sure that they remained calm in this frantic period of time. Don grabbed his coat and headed for the door. Calming the children was difficult, when Gloria was upset herself. Minutes that seemed like hours passed, when the phone rang once again. It was Don. Don explained that the young girl was burnt very badly and that he called the hospital and help was on the way. Gloria felt a sick pit in her stomach, praying the young girl was going to be okay.

The six year old girl was flown to Rochester, Minnesota by air ambulance that night with third degree burns, in need of skin grafts, and a lot of medical care. The Maendell family had no medical connections being Hutterites, and no insurance. Being the caring and generous people they were, Don and Gloria paid all of the medical bills, and the air ambulance costs for them. Gloria and Don together helped to save the life of a little girl. The Maendells looked at the Millers as heroes, and still to this day pay their gratitude to the Miller family.
From the start of my grandmother's life, kindness, acceptance, and generosity flourished throughout her personality. She accepted every change she endured and made the best out of every situation at stake. Together, my grandparents started a successful business, well known throughout the states of North Dakota and Minnesota, allowing communities access to packaged groceries, instead of buying the items they needed in bulk. With the grocery store, they created job opportunities around the two states and allowed those in need of work a job at their store. Not only did they create those job opportunities, but my grandparents negotiated deals and numerous times provided groceries to many families who couldn't afford them. My grandfather devoted his life to his business and providing for his family, so he spent a lot of his time working, but my grandmother continued to raise six children at home successfully. My grandfather died in the year of 1985, and though it was hard on my grandma, she continued to radiate her positivity and love throughout our entire family, making sure the stories of our admirable and hard working grandfather were passed on to those of us who didn't get the chance to know him. Thanks to my grandmother, I am lucky enough to have nearly fifty extended family members surrounding me at every family event (forty-six, including myself). The result of my grandparent's six children, was six successful marriages; those six successful marriages left me with a total of ten aunts and uncles, and thirty-one cousins (Keep in mind, the family is still growing at an accelerated rate). When my grandmother Gloria married my grandfather, Donald, she had no idea that they would be the start of a very happy and close-knit family that continues to grow daily. At nearly 90 years old, my grandma continues giving back to the world with her intelligence, generosity, and wit. With the grocery business, she has learned to be a very generous person her whole life, but not only has she been generous to people but she is very charitable to animals as well. Whether she's donating money to the ASPCA, or donating food to every dog that enters her home, she's the biggest animal lover I know. She leaves everyone she talks to with a smile on their face, and in awe of the knowledge she possesses. She can make me laugh until I cry with her quick wit. When I'm down she's there with open arms radiating love that could warm a whole room. If my stomach is growling, she's always there to help keep my fuill. She's taught me a great deal about life and what it is like to be strong, and successful. She has taught me to be strong in my faith, and my morals. She has taught me that no matter the obstacle you are facing, there is always a way to overcome it. But the greatest thing I have learned from her, is that a world without Gloria Cecelia Miller is a world without a bright, big-hearted, good-humored, and incredibly strong woman, that I am lucky enough to call, "Grandma".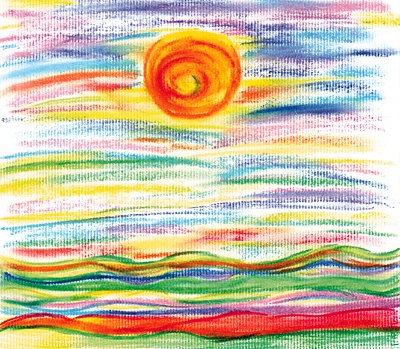 © Jennifer W., St. Albans, WV