You've seen them everyday, but you don't know their story
October 11, 2012
Standing up tirelessly day after day, some of them are easy-going and
friendly or strict and challenging as one after another, they prepare us for the regents, A.P.
exams, and department tests. What lies behind each and every teacher, however, are not just
notes written on smart boards, but the experiences, interests, and dreams of a person you
wouldn't recognize as your teacher.



In Global History and American history classes, her warm brown eyes glow
with the compassion she has shown to students here as well as her students at Ryker's Island,
a prison facility. First impressions make it seem unlikely that this patient and petite woman
taught 16 to 18 year old boys who were sentenced and found guilty of crimes.

Lana '13 commented with worry in her eyes, "That sounds like such a dangerous job so why did she apply for it?" Ms. Murphy does not regret working at
Ryker's Island because what she learned and experienced in the prison taught her more
about society and its defects.

"I learned just how much people need to stand back and think about the
complexities of each other instead of judging one another because of our backgrounds, "
mused Ms. Murphy. "Especially with people in jail, we think they are dangerous but from
my experience that is completely incorrect."

Her working experience there also taught her about the effects that prison has on
sentenced minors.

"We can help these people but when we put them in a jail we are actually
harming them because jails breed anger and danger, " argued Ms. Murphy. "If people are not
criminals before they come into jail, then they will be when they come out."

This advocator of prison reform also reasons that imprisoned students need a lot
more than just passing the global regents because prison is an emotional place with much crime,
but this is not looked into and the minors don't get the help they need.


"I hope that they can looks back on me as a person who helped them succeed,
who looked out for them, and who helped them achieve something, " said Ms. Murphy.

Other teachers in this school have also had memorable experiences and have
memorable qualities.

"I'm a bit of a vampire, " admitted Mr. Kemp. This nocturnal creature is not
bloodthirsty at all instead he enjoys contemplating and writing about the city at night. He's had
two essays and several poetry pieces published in Argentina and has even won first place in
contests in the Dominican Republic.

"What I enjoy most about writing is, in the case of poetry, it puts you in a more
intimate contact with the world instead of contemplative," said Mr. Kemp.

This talkative Spanish teacher, who enjoys weaving history, literature, and social
ethics into his class lecturers, was attracted to words ever since he was a young boy in the
Dominican Republic. His creativity and writing ability has won him awards in contests in the
Dominican Republic for his works that express his views and beliefs. As a journalist, he wrote
an article for "El Diario La Prensa", a 100 year old Spanish newspaper that has the largest
Spanish circulation on New York, titled "The Idiot Culture" where he criticized famous Cuban
talk show host Chrisitina Saralegui for dumbing down topics and turning her show into a "cheap
spectacle" by discussing trivial topics like "What people do before they go to bed" and for
encouraging Jerry Springer-like fights on her show. His other works that won awards are a
collection of short stories titled "The Slaughterhouse and the Preuvian traditions" and "For the
love of the arts" where he writes about the emotional pain that comes with abortions.

After receiving a masters degree in Spanish and a minor in English from Graduate School City College of New York, the imaginative writer became a teacher because he
enjoys the contact he has with his students which, he admits, makes up for the bothersome task of
grading papers that comes with teaching. Unfortunately, leading the double life of being an
artistic writer and a dedicated teacher is challenging and stressful.

"The worst job for a writer is to become a teacher because you have little time
left to write, " sighs Mr. Kemp.


Hosting Roman garden parties in his classroom where his students act out plays
in Latin while the audience feasts on grapes and bread, Dr. Rodriguez's passion for language has
inspired his students as well. This energetic teacher of Spanish and Latin prefers to be addressed
by "Doctor" because of the eight years' worth of intense work that he has done to earn a Ph. D in
Spanish language and literature from CUNY Graduate school. His motivation to achieve a Ph. D
arose from his love and respect of language and his determination to further his knowledge in
the field of language and literature.

"A bilingual person is worth two people," believes Dr. Rodriguez. "The more
languages you speak, then the more you understand the world which is what this society has to
realize because so many Americans think that English is the most important and necessary
language and that all the other languages come second to it."


A lover of Spanish literature, Dr. Rodriguez also enjoys reading Russian and
French novels, and he even wrote two books on historical imagination, which is exploring the
meaning of history in the context of fiction. He has had conferences in Columbia to present his
book and has done book signings in New York. He leads an active academic life of writing,
teaching at high schools, and teaching at Brooklyn College as well.

Working in front of computers and smart boards to add the finishing touches to
her lessons for her Spanish classes, Ms. Howell previously used computers as a market research
analyst for Telemundo, the world's second largest network that produces Spanish content. For
two years, she gathered population data that was based on a census about where Hispanics lived,
their age groups, their education levels and income levels, and she gave the data to Telemundo's
sales people who went to major Hispanic markets in New York, Miami, and Houston to persuade
big businesses to air commercials on Telemundo. Seeing as how she worked and communicated
by computer and phone with barely any face-to-face interaction, it is unsurprising that friendly
and sociable Ms. Howell felt dissatisfied at her job.

"I wouldn't go back to working there because I am more passionate about teaching and working with people, especially teenagers," said Ms. Howell. Her inspiration to
teach came from her tough and caring second grade teacher and her smart and sophisticated third
grade teacher who was also the first African American born teacher she ever had. Panama born
Ms. Howell decided to teach Spanish because she liked the language and studied Afro-Hispanic
literature in college.

"I like working here at Midwood because the diversity of the student body and
the big school environment offers a broad range of opportunities for students and teachers ," said
Ms. Howell.


At first glance we see them as a part of the school environment just as the tiled
hallways and chalkboards are, but their experiences outside of the school and around the world
prove that there is more to teachers than meets the eye.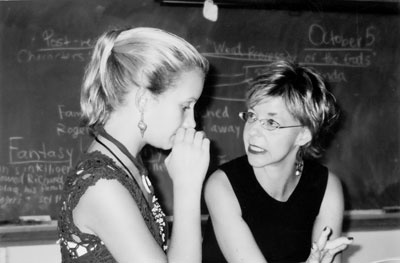 © Olivia L., Pompton Plains, NJ