An Interview with Joan Bauer
June 15, 2010
One of the most popular young adult novelists of my generation, Joan Bauer lives in Brooklyn, New York with her husband and dog. For as long as she can remember, she has had a passion for all things funny. Perhaps this is why her books have a tendency of taking putting the characters through difficult issues and overcoming them with the help of humor and courage. Joan Bauer once said that if she had to describe herself in one word it would be overcomer. On May 6, 2010 for one-hour after school my book club conducted an interview with the noted author. I learned a lot from that interview. By the end of it us girls were all in agreement, Joan Bauer, with her magnificent storytelling, had left us with goose bumps.

Although it was no surprise it is obvious Bauer's storytelling abilities by all the awards she has won over the years for her work. Her novels leave us with intangible residue I like to call awe. The thing that makes her books different from those other depressing teen novels, she starts her main characters on path toward enlightenment. "Adversity makes us stronger" She hopes that her books will help us with ours.

BC: Where do you write?
JB: In my studio with her computer looking at her "Hope" pillow which was given to her book. This makes her remember 9/11 when her husband almost died. It gave her the courage not to be afraid.

BC: There is a lot of food in your books. What is your favorite food now and as a child?
JB: Coconut layer cake with lots of frosting would have to be my favorite. I have always loved comfort food like at the Stairway to Heaven diner; GT's diner in Hope was here. Any thing my husband cooks for me. He is a good cook.

BC: Have you ever eaten Louisiana food?
JB: I love New Orleans cuisine. Breven's are my 2nd cousins.
BC: Jenna and Hope both use their jobs as a way to understand their lives and make many analogies using their jobs. Has one of your jobs played this role in your life more than others?
JB: Yes, my job sailing advertising was a little like Jenna's. I wrote it like that on purpose.

BC: We love the book, Peeled, and how it was all about apples. What was your favorite dish from all the books?
JB:

BC: Which of your characters do you think you were most like in high school? Today? Do you think you are like any of your adult characters?
JB: I was like Jenna from Rules of the Road & Best Foot Forward. My grandma had Alzheimer's disease (altimerzers), too. Also, I was a waitress just like Hope in Hope was Here so I am like both of them.

BC: As you know, we girls are big readers and several of the books we have read use commonplace names for its characters which makes us think of our friends while reading. We like that you pick unusual names for your characters. How do you come up with them? Is there a reason for this? Do these names have a special meaning to you?
JB: I work very hard on my names to avoid that exact situation so thank you.
Allison (Thownk) means one to be loved. Sometimes she changes her names for characters. Jenna Boler stands for Joan Bauer: Ivy (Backwater) represents my daughter Jean.



BC: Most of us find philosophy to be interesting. Considering how much philosophy is in your books, do you consider yourself a thinker or a philosopher?
JB: Yes, definitely a philosopher. I am interested in ethics and the way people behave. I try to have the people in my book touch on lessons lightly. So you can learn with out feeling like I am being too pushy (lecturing you).


BC: Photography plays a huge role in Thwonk and journalism in Peeled? Do use have a special interest in these things?
JB: Although I did not work on my school paper, I wanted to. I have always been a news junkie. I like writing about what is bothering me. There is so much hype in the media we have to investigate it for ourselves.

BC: What are some contemporary books, which you would recommend?
JB: To Kill a Mocking Bird

BC: We understand you have just finished a new book. We know you can't tell us much about it, but can you tell us when it's coming out or anything else?
JB: The book is called "Close to Famous" it comes out February 2011. It is about a girl who loves to bake and wants to have her own cooking show.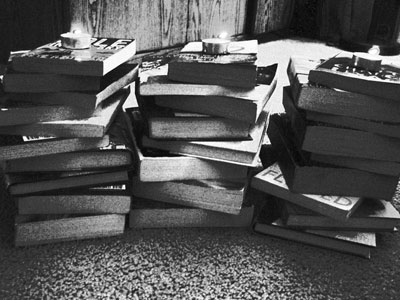 © Alexis R., Clarkdale, AZ