My Hero
April 20, 2018
My mom ,Sallie, is an amazing wife, worker, and mother. She has been married to Randy for 24 years. For many years, my mom has worked as a P.I. Coordinator. Prior to being a performance improvement coordinator, my mom was a respiratory therapist. She has three daughters that she loves very much and takes care of everyday. My mom is my hero because she is caring, loving, and fun to be around.

My mom cares for my sisters and me. Whenever I have a problem, she is always the first one coming up with solutions to help me solve it. I can count on my mom because she is always caring and there when I need her. Another nurturing side of my mother is she is loving. My mom shows me she loves me when she does things for me that she does not want to do, like taking me to a friend's house when she is doing something. My mom shows me love when she is there to comfort me when I am anxious or nervous. If I am ever nervous about something my mom is always there to help me and comfort me. My mom also has the personality to make someone laugh if they are having a bad day or just need a good laugh. She is fun to be around and is always fun to talk to. I love knowing that my mom always has my back and is always there for me.

My mom has many qualities that make her such a great mom. I love my mom for everything she does for me. My mom is caring, loving, and fun to be around which are just some characteristics that make her a great wife, worker, and mother. That is why my mom is my hero and why I love her so much.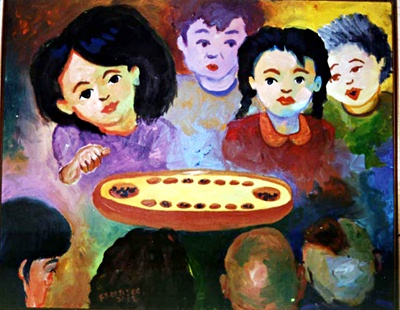 © Fransisca A., Surabaya, Indonesia