Selena's Impact
April 19, 2018
A hero is someone who worked tirelessly for all they achieved, someone who fought through the obstacles they encountered and came out stronger and more experienced on the other side; a hero is a person that gives all that they have. To me, Selena Quintanilla Perez is a person who displayed those qualities, not only through her career as an artist, but through her personality that was never affected by fame. At the young age of nine, Selena became the lead singer of a small family band called "Selena y Los Dinos". They performed at their family restaurant, but when it closed, causing her family to go bankrupt, the band performed on street corners and anywhere they could play to earn money. Through a rocky road, "Selena y Los Dinos" ended up blossoming and becoming extremely successful, releasing original songs and albums, and picking up a few new members along the way. Selena soon caught they eye of many and became known as "The Queen of Tejano", the genre of music she was known for. Her popularity was rapidly increasing, and it seemed as though she was unstoppable in the music world. In 1995, Selena's life was abruptly taken when the president of her fan club, Yolanda Salvídar, shot and kill the twenty-three year old Selena. Because her life was taken so early on, nobody knows how far she would have made it in the industry, but what we do know is that she left a big mark on the world and inspired so many people. Selena Quintanilla Perez was a hero and inspiration to many because she showed courage to face the music world as a latina woman, loyalty to both her Mexican and American roots, and confidence in her many skills as an artist.

Selena Quintanilla is a hero to countless people, including myself, because of her courage to face the music world as a strong latina woman. By mainly releasing music in Spanish, Selena was able to gain a strong hispanic following. Although latino artists at this time were not rare, latinos representation in the music world was harder to come across in America. The group of people primarily advertised in most industries in America was mainly made up of white people, so many barriers were, and are, still waiting to be broken by people of color. It is intimidating, in a sense, to set goals to walk on grounds walked by no other, but Selena never faltered nor showed fear in her journey to the top. Selena was able to break out of the cycle of poverty of her working-class family due to her extraordinary talent. Additionally, the world of Tejano, Tex-Mex, music was mainly made up of men, and Selena was able to break through the male-dominated industry. Quintanilla, the Tejano queen, shattered so many blockades in the music world and put hispanic music on the map thanks to her undying success. One of the main traits of hispanic people is courage and ride in our roots and culture, and Selena Quintanilla is a prime example of just that.

Selena Quintanilla was able to inspire such a big group of people and show that anyone can achieve what they set their minds to, even by staying true to their roots, just like Selena did with both her Mexican and American roots. To do so was not so easy because, as the famous line from the movie "Selena" states, "We gotta prove to the Mexicans how Mexican we are, and we gotta prove to the Americans how American we are." Because she was Mexican-American, she was separated from Mexico and had to work harder to stay connected to that aspect of her heritage. There was an even bigger boundary there because she did not grow up speaking Spanish and had to learn it later on in life as an adult. Onto her American side, Selena showed that no one needs to change themselves in order to be "American". She continually released music that correlated to her own culture while simultaneously capturing attention from people who did not belong to her culture. Selena Quintanilla is an immortal icon who knew how to use the obstacles she encountered to her advantage and represent what it is to be Mexican-American.

Due to her self-confidence and drive to accomplish her dreams, Selena Quintanilla Perez was able to establish herself as the queen of Tejano and leave her everlasting footprint on the world. Selena was the owner of many charms, charms which caught the eyes of her audience and led them to love her. She had fun on stage, always dancing melodically and beautifully with a big smile on her face. She had a good time and made herself happy which ultimately made her fans happy. Her confidence to have fun and smile all the time, her confidence to have fun with her fame and stay down to earth is what drew people to her, it is what made her such a happy virus which fundamentally brought her success. Additionally, her confidence to make music and bring joy and good emotions to people is what also brought her success and a strong fan following. So many aspects to Selena are what added up to make her such an immortal icon. Selena was undeniably gorgeous and her happiness, confidence, and music was contagious; that is what made her so appealing to all audiences.

The reason why Selena Quintanilla Perez was able to catch the hearts of and inspire so many people from all backgrounds is because she held the characteristics of a hero, she was a woman who showed courage to face the music world as a latina woman, loyalty to both her Mexican and American roots, and confidence in her many skills as an artist. Latinos have been underrepresented, not only in music, but in most aspects in America. When Selena, a proud Mexican woman, made her way to the top, it was important because she presented representation for so many people. Being a Mexican-American artist who mainly released music in Spanish in America, it seemed like she would only have a latino fan following, but that was not the case. Selena was able to gain a diverse following of fans because, through her music, she was able to remind people that language does not necessarily matter, what matters is the way it sounds, how catchy and fun it is. She stayed connected to her her nationality and ethnicity, inspiring so many along the way. Selena's confidence and cheerfulness was contagious, and you could see that through the fan's faces when she would perform on stage. She was an artist who knew how to have fun and spread joy through her music and persona. I believe that Selena Quintanilla will always live on because she was special, not only to her time, and she paved a road for many artists after her, she brought attention to hispanic music thanks to her personality and success; Selena will always be a timeless icon to people of all backgrounds.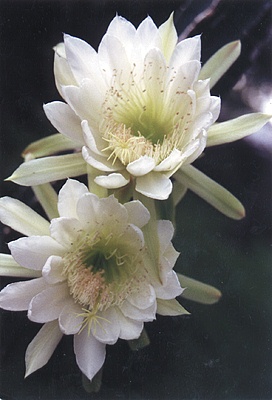 © Lindsay T., Vernon, TX