Dead Hair
January 19, 2018
I'm a strong believer that everything has a reason, but there's fine line between that belief, and the idea of predestination.  Your life is what you make it, and your fate certainly cannot be decided by another entity. 
My nonno is living proof.  Born in a poor farming village called Avellino in southern Italy, it wasn't the life he deserved, but more prominently, it wasn't the life he desired.  He was forced to end his education after the third grade as a result of money issue within his family.  He learned to be a barber by his father, and my nonno, the little boy, spent his childhood cutting the hair of dead men, preparing them for open caskets.  The powerful imagination that he developed while living in severe poverty was used to imagine how all of these people died.  A story was invented behind every body, and when the government came knocking on his door on his 17th birthday for him to serve his mandatory time in the military, he pictured his own story, and how some poor boy would be cutting his hair for his mother to kiss his head on his funeral day.  My bisnonni gathered up all of the money that they had, and sent their only living child, my nonno, to America.  The opportunities in this country attracted my nonno like a magnet.  Life gave him lemons, and he made his life.  It took a lot of the same hard work that he did back in the old country, but the only difference was he was actually getting somewhere in America.  And, once he was done making his own life, he made my father's, and mine.
I owe a lot to him but I could never repay him.  The only way I can think to give back to him is to be what he couldn't be.  When I contemplate giving up, I meet men in suits with blue lips, and slicked back hair.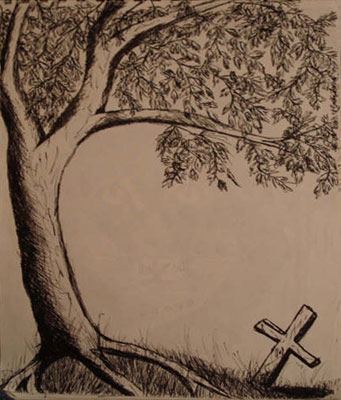 © Courtney K., Bethel Park, PA