One Woman
January 18, 2018
A young woman works with her student in a science lab at King's College of London. As a research associate, she collaborates with a student and—through determination, strong work ethic and perseverance—unravels a discovery that would soon change the world.

Working together, they apply their knowledge about X-ray diffraction to their experiment by snapping a photo of DNA. Afterwards, they identify the structure of DNA in photo 51—the key to unlocking the structure of DNA. The master behind this discovery is Rosalind Franklin and she is the one who I admire.

Determination. Even at the age of 15, she knew she wanted to be a scientist. At St. Paul's school for girls, she developed an aptitude for science and math. In 1938, she left the school to pursue her lifelong dream of becoming a scientist. She enrolled at Cambridge University where she received her PhD (The Rosalind Franklin Papers). In January 1951, she was hired as a research associate at King's College of London (Rosalind Franklin, 2017). But the mysterious appearance of DNA in the early 1950's lingered in her mind. Due to Franklin's photo 51, the appearance of DNA was no longer a mystery. She discovered it had two forms: wet and dry. One had a helical structure; the other had ribose chains (The Rosalind Franklin Papers). These two forms would later be referred to as DNA and RNA (Rosalind Franklin, 2017). Photo 51 was the discovery of DNA and Rosalind's drive to discover is why I admire her.

Strong work ethic. While taking photo 51, she endured 100 hours of radiation exposure (Rosalind Franklin, 2017). Despite these dangers, she focused on her biochemical studies. In 1956, she was diagnosed with ovarian cancer (as a result of radiation exposure). She went through rounds of chemotherapy and three surgeries (Rosalind Franklin, 2017). During this time, she still worked on making more discoveries. Rosalind's work ethic is why I admire her.

Perseverance. She never gave up, despite her battle with cancer. She was a fighter until her death in 1958. Her fighting attitude is what helped her discover DNA as well, as she never gave up hope in her research or her life. Cancer did not bring down her positive attitude or stop her from her studies. Rosalind's perseverance is why I admire her.

Since the early 1950's, the world has changed due to her remarkable discovery.

Photo 51 was crucial evidence of DNA's existence. Her work left an imprint on the study of biology for decades.
Rosalind Franklin's determination, strong work ethic, and perseverance helped her create photo 51. And that's why she is the one I admire.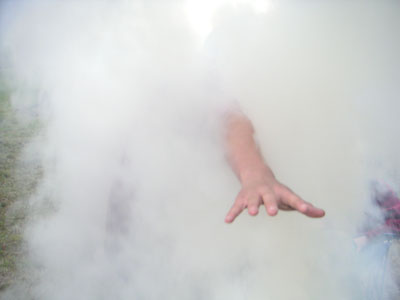 © Garrett M., Port Angeles, WA