Private Robert Sampson
January 19, 2018
Women participating in war has become popular in the past twenty years, but previously, women were considered unworthy to fight for America. Women have risked imprisonment and their lives to protect this country before it was even legal. One of those women was Deborah Sampson Gannett. Sampson enlisted as a male under the name of Robert Shurtleff Sampson and altered her entire appearance to serve in the American Revolutionary War in 1782. Her actions have encouraged other females throughout America to defy the odds.
Deborah left her family and enlisted under the name of Robert Shurtleff Sampson in the town that she lived in, Middleborough, Massachusetts with her chest bound and hair tucked into a cap to erase all traces of femininity. The man assisting her with signing paperwork recognized her, but that did not stop her. Sampson enlisted a second time to the Uxbridge, Massachusetts Army Unit and began training. On her first mission to Tarrytown New York, she was shot. She begged her fellow soldiers to leave her there to die, in fear that her identity would be revealed if she was seen by a doctor. While she was unconscious, they took her to a doctor anyway. As she was about to be seen, she left and tended to her own wounds by removing bullets with a knife and sewing stitches herself. She continued to serve seven more months under General John Paterson, until she became ill. Sampson had no choice but to see a doctor. This doctor named Doctor Binney, noticed that she was a woman, but kept it a secret. He took Deborah in by letting her live with his family while she healed. As months passed, a peace treaty was signed and Binney wrote a note to General Paterson explaining that Robert Shurtleff Sampson was actually a female all along. General Paterson gave Sampson an honorable discharge after he heard the news along with enough money to return home.
Sampson is still known as the first woman to serve in the United States Army without being recognized during her deployment. This has moved many women's advocates to support female military enlistment throughout the years. Thanks to Deborah Sampson Gannett, women today have the courage and the power to enlist in the military.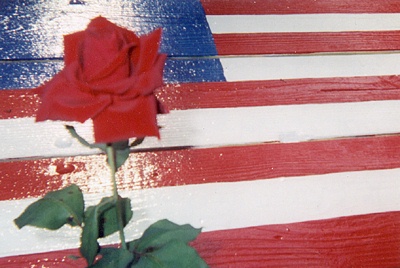 © Elizabeth H., Gulfport, MS