Dear Vietnam Veteran
December 21, 2017
Dear Vietnam Veteran,
I hope you have enjoyed your trip on the Honor Flight, and I would like to welcome you home. I am currently a senior in high school, and have just watched the Honor Flight movie. I was extremely grateful to see that the veterans are getting the respect and heartfelt thanks that they truly deserve. Which inspired me to write this letter before you, of which every word is earnest, every line sincere, and every paragraph authentic.
While I was watching this I couldn't help but think of my father, grandfather and so on, who collectively, have served in every branch of the military. From them I have been imbued a sense of respect, patriotism, and pride for you, and everyone who has enlisted, and been drafted into the military.
Since I am in high school, I am surrounded by many 18 year olds, many whom I could not imagine serving in the military, and I couldn't conceive how it must have felt for you to be sent into war as such a young age. For this, I thank you. For sacrificing your time, and risking your life to serve our country, I have nothing but appreciation and respect for you.
On behalf of all other people without military backgrounds, I would like to inform you that everyone I know cherishes your presence, and appreciates your actions.  Even though most people default to the cliche, "Thank you for your service." They genuinely mean to say more, and long to emphasize with you, but are just unsure of how to express it. The next time you hear, "Thank you for your service." Just remember the underlying gratitude they feel, even if they don't know how to effectively communicate it.
From the bottom of my heart, welcome home.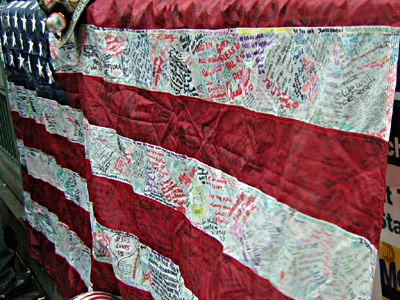 © Brittan S., Chino, CA