Thank You for Your Service
December 21, 2017
Dear Wisconsin Veteran,

In 2017, not many people have the bravery, courage, and determination to step forward and give a commending offer. The lack of quality in character today is exceeding an all time high. That needs to change now. There are young people not realizing the impact that the Korean War, Vietnam War, and WWII has made. This does not only affect the U.S., but it also effects the veterans greatly.
The difficult part of being a Veteran, is coming home with PTSD, anxiety, depression, bittersweet encounters with family and loved ones, and so much other memories of what they had vividly seen for so long during their tours away from home. Some Veterans leave their normal life at the ages of 17 or 18, which is extremely hard to comprehend.

My name is Hannah N., and I am 18, and from Wales, Wisconsin. I attend high school in Hartland, Wisconsin. I am currently a senior and will be graduating a semester ahead of my graduating class of 2018. As for my plans after I leave high school, I plan to apply to the Milwaukee VA Medical Center to become a phlebotomist, although my original plan would have been to enlist into the U.S. Air Force as a Family Physician. I don't really know why my plan isn't to go into the military right away—maybe I am scared of what's to come after I am in. Just like I imagine you felt, I feel scared, timid, and anxious for the aftermath of signing my name and saluting during the time of being sworn in. I know that once I am sworn in, I will feel a weight lifted from my shoulders and all will be well. As a new adult, I have come to realize that people my age, including myself, lack the knowledge of sacrifice, devotion, and motivation. But like you, I am not one of those people. I am the type of person to try and accomplish as much as the people who fought before me.

I understand the effects the military has on veterans returning home. My uncle, Bobby, served in the U.S. Air Force prior to being a father. He had seen things that will forever be imprinted in his memories until the day he dies. As we talked more about his deployments, he shared a moment with me. He was at his base, like every other day, when he heard an explosion. He went to the gates where the sound was identified as a grenade that had been set off, and killed two guards that were supposed to be checking ID's prior to entering. Just like that, he will not only come home with memories of that horrible instant in life, but also the fear of someone attacking him out of nowhere. I am sure there are probably thousands of other memories he still holds with him today, but that one was the first one he had ever shared with me personally.

Memories that you hold are something can't hold a monetary value. I participate in the freedom you have given us. I am thankful for the love you've provided, and the pride I endulge upon. Veterans that have lived to tell war stories and experiences while having served this beautiful country, are the heart and soul of this country we all live in. We are Americans, we are free. More free than we have ever been. Thank you for providing your bravery, courage, and determination to give us a safe home to sleep in and family to come home to every night. Your service to me is priceless and it is held in high regards always.

Sincerely,
Hannah N.
P.S. I would really love to hear your story and how you came to be who you are today because of the act of choosing the military at the time that you did.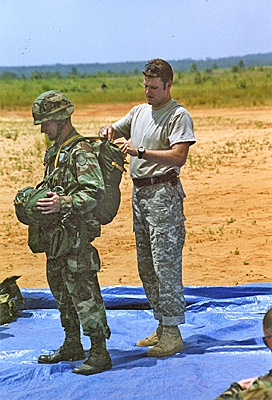 © Mark A., Phoenix, AZ