Dear Wisconsin Veteran
December 21, 2017
Dear Wisconsin Veteran,
Many high school students will attend a football game today, stand for the National Anthem with their hand over their heart as they should, and listen to the song being sung but they don't really think about why they are doing it. They may stare off into the distance and just go with the motions thinking about the game that's about to begin. Even though I cannot tell you in person, each time the National Anthem plays I am especially thankful as I am reminded of all of the reasons I get to enjoy football games today. It is thanks to you—your bravery, sacrifice and dedication to this country.

My name is Samantha and I am a junior in high school. As this next year rolls around, I will be applying to college with hopes of becoming a nurse. It amazes me that around this same time in your life you were enlisting in the army because you wanted to protect our country. Even though you don't know me personally, you fought for me and my future. For that, there are no words I could ever string together to thank you enough and tell you how much I truly appreciate you.

Obviously I don't know what it's like firsthand to be in war but my great grandpa enlisted when he was 18 and doesn't like to talk about what went on overseas much. Upon returning home from war he was changed as a person forever, scarred from what happened in battle. I can imagine the same goes for you.

I want you to know that I am thankful for every sacrifice you made for this country and for me. Thanks to people like you I am able to do the things I love. From the bottom of my heart, thank you and welcome home! If you have any experiences that you would like to share with me I would love to hear them. I look forward to hearing back from you.
Sincerely,
Samantha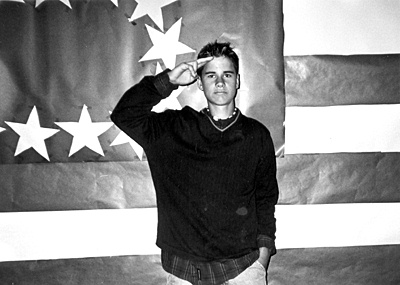 © Corey K., Highland Village, TX