Mail Call
December 21, 2017
Dear Wisconsin Veteran,

Inspiration is the first word I think when I see the word veteran. In society today, my generation seems to be focused on what new thing we can buy. When I watched the Honor Flight movie, I realized there is more in this world then the next gadget.

Let me be the first to say how inspiring you are as a human being to go through the most traumatic experience I could possibly imagine. My generation has no idea how lucky we truly are, so truly my message to you is…Welcome home.

My name is Lauren and I am a junior in high school. As my high school career is almost over, I look toward college where I will go to law school to become an attorney for the wrongly accused. I could not imagine what is what like to not go to college, drop everything and fight for our country. I'm here to thank you even though, sadly it's not in person, I want to express my gratitude for your sacrifice.

I want to thank you for not only coming home with your head up high but also for the legacy you leave behind.You taught my generation that commitment will get us far, so I look up to you to be my inspiration as well as my whole generation.

You deserve to know that your service will not be forgotten.

Please write back to me, I would love to hear from you. Thank you so much for all your sacrifices!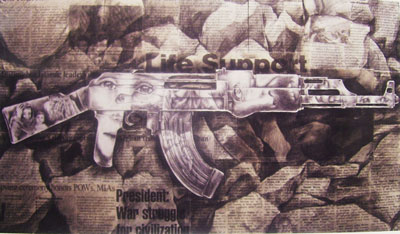 © Claire V., Lubbock, TX