Thank You, Veteran
December 22, 2017
Dear Vietnam Veteran,
To begin, I would like to thank you for your services and sacrifices you have made. I can't imagine how hard it must have been for you overseas. I just want you to know that I am beyond grateful for your time and services.
I am a senior from Wisconsin. In class we watched the Honor Flight movie and I saw how much these letters mean to you the veterans and it made me want to write a letter to show my appreciation for you.
Thank you for giving your strength,bravery and courage to protect me and family. The amount of bravery and courage it took to go out and fight day after day is what makes you the memorable soldier you are today. Thank you for making me feel safe and giving the ability to write this letter. Your hard work and dedication is what makes this country special and gives us the ability to live the lives we do.
You have served this country in more ways than one. Each day you fought knowing it could be your last, you preserved privileges many of us take for granted. I know the hard work and time you put in and I am grateful for it . The burdens you may have brought back from war may never disappear, but I hope they will get easier with time.
I truly thank you for your services, and am forever grateful for your sacrifices.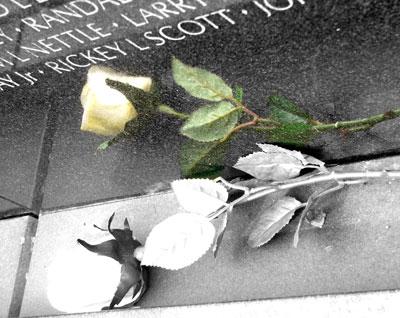 © Kimber E., Yorktown, VA