Mail Call
December 22, 2017
Dear Veterans,
Years of service, months of war, and your commitment to this nation will never be forgotten. From a young age, I have had the utmost respect for our brave soldiers. Being a grandson to two Army vets, and a brother in-law to a enlisted Marine, the sacrifices made by you and your fellow soldiers has been taught to me from a young age. Sleepless nights, miles of hiking, and days filled with gunfire gives a tiny glimpse of the commitment and patriotism that you have to our beautiful Country.

Since I was a little boy, I looked up to my brother in-law Mario. Seeing him in his uniform, telling me about the badass training he did, I looked up to him. After years of service, acheiving rank of E4, he got nine month deployment orders to Afghanistan. His platoon unfortunately took the most casualties in all of the Afghanistan war (?), even losing their Staff Sergeant to enemy gunfire on Thanksgiving day.

His personality changed after this deployment. He was less open, didn't want to talk, and I even remember he hit the deck when a balloon popped at his son's birthday party. I tell you this not only because I am sure you can relate, but also to express my full appreciation of our Veterans. Not only do the physical aspects of war wear on the body but even more so the mental aspects.

Just these tiny experiences with my brother in-law shed light on the commitment and sacrifices made by you. The things that you did were extremely patriotic, brave, and and selfless. I look up to you as a hero for one reason, less than 10% of the people in this country can do what you did.

The legacy of our veterans will be in history books forever, ensuring that your service will never be forgotten. Our veterans give to this country, and appreciation from the people is owed to you. Welcome home soldier.
God Bless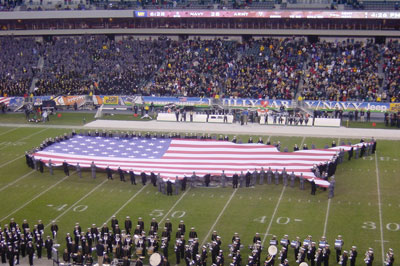 © Kristin B., Middletown, DE