Hometown Hero: Steve Gleason
November 10, 2017
Even though hero can be defined many ways as it varies from person to person, I think a hero is someone who has endured immense obstacles with exceptional courage while still always maintaining a positive outlook on life. The NFL veteran of the New Orleans Saints, Steve Gleason, will always be heroically remembered for his blocked punt the first home game after the devastation of Hurricane Katrina. However, Gleason is not only remembered for his stunning play but also for his courage during his ongoing battle with ALS (Amyotrophic lateral sclerosis), an incurable disease within the nervous system that weakens muscles and impacts physical function. Due to this definition, I have chosen my hometown hero, Steve Gleason, as my modern day hero because he exemplifies all qualities that a true hero should possess. Steve Gleason is the epitome of a modern day hero due to his courage, generosity, and strength in his continuous fight with ALS.
 
The first heroic trait Gleason is blessed with is his courageousness. After being diagnosed with ALS, Gleason had to come to the reality that daily activities, which were once second nature to him, were now going to be challenging. As his ALS progressed, he lost all of his motor skills and began to have trouble breathing independently. However, even after he realized his life had been changed forever, he did not let it stand in the way of his happiness: "I have this diagnosis, and it's not going to crush my life, even if it does crush my body." Because Gleason refused to let his disease control his life, he acquired the courage to face his illness head on, not letting it seize the amazing things life has to offer from him. Gleason depicts the heroic trait of courage by not letting his illness strip him of the things he loves in life.

As Gleason encounters ALS with courage, he is also confronts it with strength for not only himself but also his wife and his son. Gleason's perseverance and willingness to fight for a normal life again reveals the great strength embedded in his heart. Gleason demonstrates strength not only to himself but also to his family. After finding out that he would become a father only months after being diagnosed, Gleason made it his priority to be the best father he could be to his little boy, Rivers. Knowing that it is a possibility that he could not be around long enough to watch Rivers grow, Gleason continues to do his best to teach Rivers to live a life full of love and happiness no matter what the circumstances may be. Furthermore, Gleason along with his wife, Michel, both show the ultimate strength by fulfilling their marriage vows to one another. Even though Gleason's illness is physically and mentally tough on Michel, her commitment to and love for her husband is relentless. With the strength to persevere through the agony of what is now his life, Gleason is able to be strong for his family while enduring this life-altering event.

The last heroic trait Gleason possesses is his generosity towards others. Gleason demonstrates generosity through his foundation, Team Gleason. Team Gleason helps to raise awareness for ALS, to raise funding to help other victims that struggle with ALS, and to hopefully find a cure one day. The money Team Gleason raises is then distributed to other ALS patients providing them with top of the line technology, equipment, and services. To help spread public awareness, Gleason and Michel document Gleason's amazing adventures; they share these events to encourage other ALS victims that ALS does not control their limitations in life. Gleason's foundation's motto, "No White Flags," has diffused throughout the nation reminding people to never give up. Through Team Gleason, Gleason is able to show his heroic trait of generosity and care for others.

Steve Gleason's courage, generosity, and strength with his battle with ALS proves him to be a modern day hero. Gleason's courageousness helps him to face the reality of his disease, refusing to let it destroy his life. Gleason shows strength for his wife, his son, and himself by prioritizing their family time and by leaving Rivers with exemplar of how he should live. Gleason's generosity is seen through Team Gleason by continuing to help others that are in his same shoes. In conclusion, Steve Gleason is truly a modern day hero because he inspires others to never give up.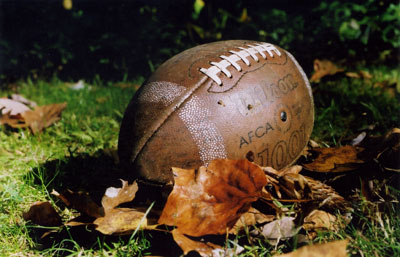 © Michael L., Bethesda, MD