Sasha
October 23, 2017
What makes a hero a hero? A hero is someone you admire and look up to. For me, that's my good friend and fellow 8th grader, Sasha. Sasha is my personal hero because she moved from across the globe, from Russia, to be here, in America. She is also very admirable due to her very silly sense of humor.
There are many things that I don't know about Sasha, but I do know that she lived in Russia at least until the age of 6. She tells us stories about the times when she lived in the eastern hemisphere; the most notable being, the time she went to China when she was 6. She claims, "When my family and I took a trip to China when I was 6, Chinese paparazzi started to chase us down the street." Sasha also explains her old beliefs on capitalism, when she first moved to the United States of America, "I used to wonder why everyone was not paid the same, because i was used to communism and everyone working for the government. I did not grasp the concept of capitalism very quickly." I do not know the reason why her and her family left the glorious communist state of Russia because I haven't gotten the chance to ask her, but I assume it was for a heroic and noble cause.
Sasha has a very goofy and admirable sense of humor, that I can only assume originates from her Russian roots. Sasha's jokes are amusing to me because they are all references to incidents that occur during the only period that I have with her; lunch. We share several inside jokes that originate from our lunch period, that can be summarized into few words or minimal movement. She references these occurrences at the most appropriate times. In addition to inside jokes, Sasha sometimes speak in Russian all for the purpose of comedy. An example of one of these jokes is summarized into only two words; chicken nuggets. Sasha often references this silly happening, which contributes to her all round, goofy personality.
In final consideration, Sasha moved across the globe from, the former, "Soviet Motherland" to share her stories and, her silly personality.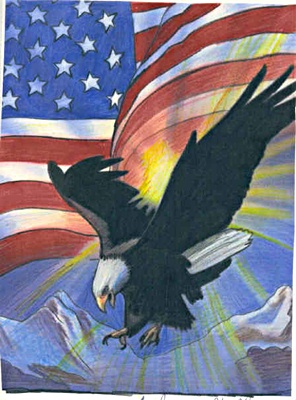 © Andrea G., Middle Village, NY