My Dog My Hero
October 17, 2017
My dog is my hero for so many reasons. He doesn't care what people think of him, he has a good attitude, he knows when I'm sad or mad. He even knows when I'm sick. Animals are the only thing in the world that love you more than they love themselves. My dog on the other hand, loves everyone; including himself.
    When I first got my dog Bear, he was getting ready to be donated to a shelter. They said that no one wanted him and that he keep getting picked up and put back in the cage. This hurt my heart, but he didn't seem to mind. This is where the good attitude comes in.  Bear prances around the neighborhood like he owns the place, he barks at dogs 5x his size, but loves everyone he meets. While Bear does not come when he is called because of this previous experiences of being put into cages, he does run up to anyone new that he meets! Since Bear has been around so many other dogs, he loves to play with every single dog he sees; and he doesn't care what anyone else is doing. I'm glad he isn't afraid of other dogs because of what he's been through. He has a lot of reason to be unhappy or overprotective. But he's just as happy as happy can be!
     Another thing I love about Bear is he knows when I've had a bad day, and he has to know where I am at all times, because I'm his favorite. Bear sits by my door while I'm at school and over the weekends wakes me up in the morning. If I had a bad day at school he will lay by my side as I do my work or give me kisses till I smile. One thing that makes me wanna put him in my pocket and take him everywhere with me is that when I'm in my room and the door is shut, he follows me to my room, and scratches at the door and cries until I open the door and pick him up. It's the cutest thing I've ever seen!
Orver all animals are gifts and we are so lucky to have them in our lives. They know when your sad, angry, depressed, sick… they are a forever friend, and to some people, a part of the family. I'm so lucky to have Bear and that he loves me!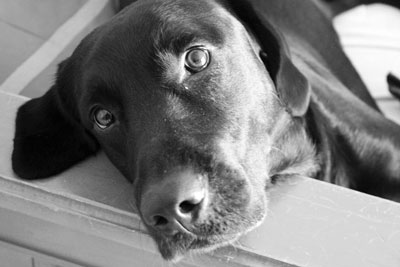 © Lindsay L., Snohomish, WA