My hero
October 17, 2017
My hero is Kelly Slater because he persuaded his dream of becoming one of the world's most known and best surfers in the world. Also he made his own line of surfboards and accessories, one of my favorite creations of his is a man made wave pool that makes a perfect wave that you can ride for hundreds of feet and get inside a barrel for the whole time if you want.
               Kelly slater started surfing when he was very young and surfed in many places across Florida, he worked his way up the line of famous surfers and he didn't stop pushing until he got to the top of the surfing chain along with many young surfers like Mick Fanning, John John Florence, and Felipe Toledo. He is a hero to me because that is what I want to do when I grow up to be the world's best surfer.
              Also he has one of my favorite surfboard lines, traction pads and surfboard leashes in the world. I have a 5'7 Sci Fi Kelly Slater Design board that I got for Christmas about a year ago. That board changed my life because it is my favorite board to ride also it rides very smoothly so I can get nice rides in and work on doing airs and such. My last favorite creation of his is his famous wave pool that he made in Lemoore, California. He hold a competition where you enter to win and surf for the whole day to have to yourself with Kelly Slater in his wave pool, that is one of my biggest dreams. This October I am going to see him in West palm beach.
                Kelly Slater is my hero becuase I want to grow up to be just like him and be one of the world's greatest surfer and created his one line of surfboards and surfing accessories for him and other people to use. My dream is to surf in his wave pool that he made in California.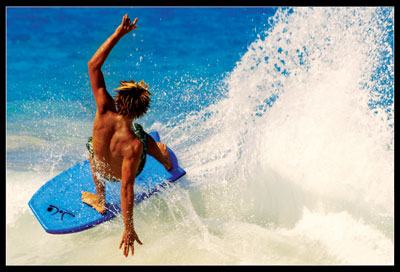 © Sarah L., Holualoa, HI