Here's to the Heroes
October 4, 2017
Here's to those who sacrificed, protected, and fought for our rights. Here's to those who traveled across countries to make sure we are safe. Here's to those who are hard-working because without them, we would not have the rights we do today.
Here's to my grandfather, William, who enlisted at the age of 17 into World War II. He joined the 69th division, and fought in Battle of the Bulge, protected two famous scientists, and fought alongside his brothers. Because of his bravery and service, he received a Purple Heart. And because of what he accomplished, my family visits his flag at Wisconsin Memorial Park every Memorial Day, Flag Day and Veterans day.
Here's to a woman who contributed her time and effort towards World War II. My grandmother, Jean, worked at Allis Chalmers, a manufacturer of machinery for planes. She started in the dark of the morning and went until the dark of night working on processing tank and plane engines. She was proud of her work. And she showed her patriotism by helping the Americans fighting over the Atlantic Ocean.
Here's to my neighbor in Kempster, Wisconsin, Harry Fraley, who dropped everything to fight. He left home for Vietnam at the age of 17. Harry told me that what hurt him the most was when he came back home. His general told the soldiers to change their American uniform into street clothes (because there were crowds of protesting). Harry is a patriot who served his country on secret missions, and was treated like dirt when he returned to the country he loves. Harry is 73 and it still bothers him to this day, that he risked his life for those who protested.
Here's to the men and women who I treasure dearly. You define patriotism. I thank you every day for what you have done, and wish you could see the world now. I appreciate what you've accomplished and I show my patriotism by saluting our flag, singing our songs, and remembering those who fought. Here is to you and your service.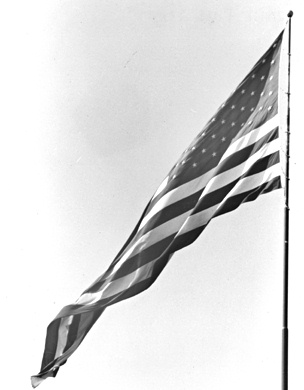 © Lauren B., Highland Village, TX