Teacher Dad
May 30, 2017
The day my feet stepped into that psyche class, I will live to remember.

Like yesterday, the aroma of your words came back to me, a mighty wave rolling in my mind. "Learning is like pieces of rubies hidden in the desert: it is up to you to decide how many you need." With great passion, your speaking of those syllables soaked into my heart. When I walked out, I was curious to come back the next day to hear the man who touched my soul, not by his hand, but by the fire that boils from the corner of his lips, one that hearkens the deaf to listen. The last few days, I have been flying on your shoulders, stuck amidst the beauties of the galaxy, drowning in fantasies, inhaling the breath of your knowledge. I am wrapped in between the twist of your stories like the morning sunlight cutting through the roses across the banks of the river. You held my ignorant and apathetic self, transformed it into the image of a caring and a knowledgeable person, one soiled in hopefulness. I was far gone, a million miles away, but you picked my hand, and refilled my thirst and hunger for education.

Everytime I look at myself in the mirror, I see those heart muscles of character I stole from you, well-rounded and striped like a beast. The glimmer of a smile that never faded away from your face, that I contracted from you. Whenever the frail in my eyes declined, you remained the courage and resilience I looked up unto. A listening ear you bore and lent to many, made school feel like the way to the Garden of Eden, with trees growing fruits worth eating. The half-handful of the understanding about life, I modelled from watching every step and giving heed to the pew of your riddles, unknown and curled beneath the surface. Yet from the riddles lay the fountain of the stars we all search for, bright and brittle, husked under the clouds. Sharing two years with you has been the fuel that drives me by the highways, in the valleys and the smooth-ways.

I understand very soon the world will swing us apart, where the reach of our eyes won't touch again, when your voice will keep replaying in my head like the melodies of Christmas Eve. I have written this so that you may know how much you carried in my heart. The many stories I tell about you, go unending, the sun never misses to hear of how overjoyed I am to be a part of an encounter with the most androgynous man. Days will go by, but you always will remain my teacher dad.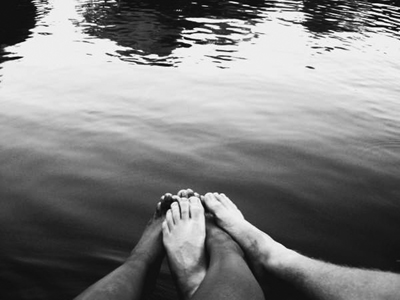 © Michelle W., Ada, MI