untitled
March 6, 2017
Dear Wisconsin Veteran,
Thank you for your service to our country. I watched the Honor Flight movie and I think that the Honor Flight program is an awesome program. It's awesome to see war veterans receive the recognition they deserve for sacrificing themselves for our freedom.
Showing gratitude to people who serve our country has always been important to my family because members of my family have served in the Armed Forces. Currently I have two cousins in the military. One is in the Air Force and the other is in the Coast Guard. Also, my uncle served as a Marine in the Vietnam War, and my dad's uncle gave his life as P-38 Lightning pilot in WWII. I have heard many stories from my uncle about his time in Vietnam. He's told me stories of his firefights, and he's told me stories of surviving the harsh weather conditions in Vietnam. He told me about how he arrived at Vietnam. Within 15 minutes of landing in an American controlled airport, the enemy began bombing them. Also, that same night as him and his company were trying to get some sleep, the enemy started shooting into their barracks, and my uncle had to fight them off. Within the first 24 hours of my uncle being in Vietnam, he had already experienced two life threatening situations. Thankfully, my uncle was able to survive these events and many other battles.
Hearing stories like these about the hardships of our brave soldiers gives me a great appreciation for our service men and women. I am thankful for service organizations like the Honor Flight that make it their mission to recognize our American heroes, and I am thankful for heroes like you.
Thank you so much for your bravery and service to our great nation. I hope you had a lovely trip, and I hope you know that we all appreciate what you've done.
Thank you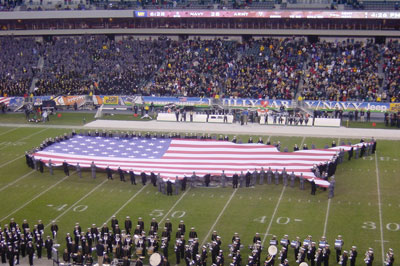 © Kristin B., Middletown, DE