Memorial Day Honors Family Heroes
September 28, 2016
Red, white, and blue flags throughout the neighborhood proudly wave in the sun. Giggles and joyful screams escape houses as a car stops and the silver keys pull from the ignition. Opening the front door, I see my cousins bouncing like bunnies up to the house. I am greeted by mighty running hugs from my younger cousins, Autumn and Liam. Their precious hands take hold of mine, pulling me to a room submerged with toys.
After being introduced to Barbies, babydolls, and superheros, I leave the land of make-believe and return upstairs to reality. Feet pound against the floor, wrapping paper rustles, as gifts are piled up like a game of Jenga. It is present time. Liam can barely sit still while waiting to destroy the wrapping paper that keeps him from new toys. My grandpa captures the moment on his phone.
A battered hat sits proudly upon his head, showcasing the pins and patches reminding me of the war he and other brave Americans fought in. The wrinkled hat shows the hardships he went through during his five years serving in the Air Force. He slumps in the seat next to me. "Can you believe Liam is already three years old?" I shake my head. It seems like yesterday I held the newest member of the family in my arms...
Today, five families gather around the curly haired boy to sing "Happy Birthday." Sitting in the room full of warm company, I look to my grandpa with gracious eyes. "Thank you for your perseverance. Thank you for your bravery. Thank you for fighting for your country. And thank you for fighting for your family," I say to him. "It is because of you that we are here together."
My grandpa doesn't like talking about his service. The worn hat he wears shows what he has faced, without having to relive the past through painful memories and words.
Memorial Day means spending time with family. It means the importance of family. It means family is worth fighting for.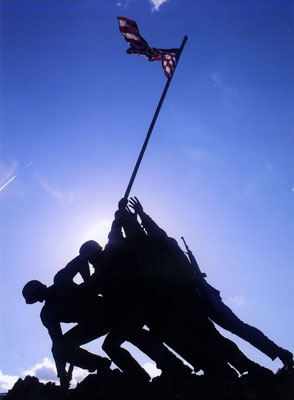 © James M., Glendale, AZ