Grandmother's Voice in the Wind
February 2, 2009
Everyone has a person whom the respect and want to be like. I also have a favorite person that I respect. I want to be like her. She is not famous, just an ordinary woman, but she is the greatest person to me. That person is my grandmother. She passed away three years ago. But she still lives in my heart and always encourages me.
My grandmother was very warm and cheerful. Like the sun, she made everyone around her warm and happy. Whenever my mother was busy and came home late, my grandmother held me on her back and sang 'Mother's Song,' knowing how much I loved my mother. In the garden, when the moon was out, she would sing 'The Moon Song,' her favorite childhood song. When she sang, I felt warm and reassured. At night, she would tell me about her childhood and wartime stories. She would read bedtime stories and sing lullabies to me, with her warm hand on my back.
My grandmother was a good cook. She cooked the vegetables that my grandfather grew in his garden. They were delicious. I loved her uchina cooking; goya-champlu, tamudendaku, and other dishes. Every New Year's Eve I always looked forward to eating toshikosi soba that she made. She would put twice as much on my dish and asked, 'Here you are. Is that enough for you?' with a big smile.
When I started practicing on the basketball team, she was so delighted. She would come and watch our practices. 'I will make big rice balls like a basketball and I will go to cheer for you at your games,' she said. I was looking forward to her coming to my tournament, but unfortunately, she passed away before the tournament. I wanted to show her how much I had improved.
When my grandmother went to heaven, I was very sad and missed her a lot. I cried everyday thinking of her, wishing I could see her just one more time. One year later, when I was watching TV on New Year's Eve, I heard the song: 'I Am a Thousand Winds.' It touched my heart, and although I was thinking of my grandmother, I didn't cry. I realized she didn't pass away; instead, she became a thousand winds. Even now, she is right here with me. In the daytime, she is the sun; cheerful, warm and bright. At night, she is the moon, giving me light and guiding me on. When I feel disappointed, the wind brushes against me and whispers, 'You are OK. Don't worry, my dear.' When I look at the stars and the moon, I can hear her lullabies. I find her in everything, everywhere. I am here because of my grandmother's deep love, and I will always be here with the thousand winds that is my grandmother.
Once upon a time, there lived my grandmother. She taught me many things that have helped me face the many challenges in life. And she gave me the greatest gift of all, love. Now, she has became a thousand winds and is still right here beside me. She is always listening to my problems and constantly encouraging me when I face new challenges. I want to share her gift of love. I want to live like her.
Nowadays, when I turn on the TV and see all the fighting and violence, I just hope one day, we can all stop our wars and learn to share our love just as my grandmother did.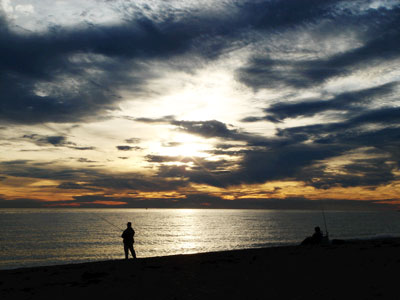 © Sarah C., Hillsdale, NJ