My Third Reason
MAG
April 2, 2015
The summer after freshman year started slowly. I made sure to take advantage of the free time I had, not knowing if I would have any after I began my new job. I had been hired by the local grocery store, and I began work in two weeks. Soon enough, I found myself in black pants, a white dress shirt, and a black tie. My new name tag completed the uniform. My mom snapped a quick picture before we headed there.
When I walked through the sliding doors, I couldn't help but ask myself, Why did I apply here? There were only two reasons to work for a grocery store: the 3 percent discount on groceries and the pay (minimum wage, of course). I was standing there, trying to think of a third reason, when I noticed a familiar face approach. It took me a minute, but I finally recognized the woman as the person who had interviewed me a few weeks earlier: my boss. This cranky woman in her late forties introduced me to a few of the employees I would be working with and explained the basic do's and don'ts of the job. She had a meeting to attend, so she assigned me to one of the other employees.
Most people would be disgruntled to have to train the new kid, but I could tell even as he approached me that this man loved his job. He introduced himself as Al. He stood about five feet, eight inches tall, and had short brown hair hidden by a Green Bay Packers hat. When I reached out to shake hands, he looked at me funny and gave me a hug. I realized right away that Al was my third reason to work at the grocery store.
The day began, and as we stocked shelves and collapsed boxes, Al told me about his childhood. He was born in New Mexico and was diagnosed with autism at an early age. His family moved to Wisconsin when his dad was transferred to a new office. The move was hard on Al. He left his friends behind and entered a new world – a colder world where he knew nobody. It wasn't long, however, before he found his passion: Al became a die-hard Green Bay Packers fan. He watched the games each week, and his daily apparel rotated between his nine jerseys. I noticed how his face lit up whenever he mentioned the Packers, a smile that brightened hundreds of customers' lives each day.
It had been 11 years since Al moved to Wisconsin, but he had never been to a Packers game. It was late January, and my family had just gotten tickets to see the Packers play the Vikings in the first round of the playoffs. When I asked Al if he'd like to come with us, he dropped a case of pickles, sending shards of glass and pickle juice everywhere. A huge smile lit up his face. That smile remained there all week. All Al talked about was the Packers and the upcoming playoff game.
That Saturday, my dad and I picked up Al and headed for Lambeau Field, home of the Packers. We made sure to arrive early, leaving plenty of time to tailgate. My dad set up the grill, and I played catch with Al. Before the game, we stopped at the Packers pro shop. Despite Al's plethora of Packers jerseys, he did not own a foam cheesehead hat. Leaving the pro shop, Al was a sight to see. He had on Packer pajama pants, his Aaron Rodgers jersey, Packers glasses, a Packers scarf, and his cheesehead hat.
We found our seats, but Al couldn't sit; he remained standing the entire game. At half-time, they played Al's favorite song, and we got on the Jumbotron. The Packers went on to defeat the Vikings 24-10. Al was so excited that he took off his jersey and whipped it over his head. I was surprised to see that he had the Packers logo painted on his chest!
My time with Al was cut short. The following February, he was diagnosed with melanoma, a form of skin cancer. Al never gave up. He fought the cancer with incredible strength, saying, "If the Packers can beat the Bears, I can beat cancer." Al lost his battle to cancer that May.
Al impacted my life in more ways than I thought possible. Not a day goes by when I don't stop and think about him and his love for life. At his funeral, everyone wore Packers jerseys because that is what Al would have wanted. It was a celebration of his life. We took turns telling stories about Al. When it was my turn, I stood up and started, "The summer after freshman year started slowly. I made sure to take advantage of the free time I had, not knowing if I would have any after I began my new job …."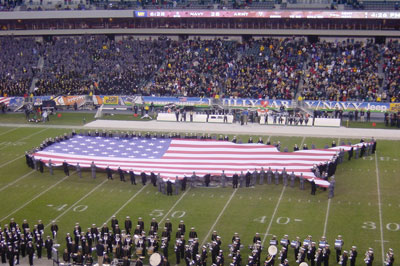 © Kristin B., Middletown, DE