Grandmother - Anna P.
MAG
December 26, 2008
Anna married Jerry when he had nothing but 25 cents, an old 1941 Cadillac, and a full tank of gas. "Now that's trusting in the Lord," Jerry later said. "I had no job, no money, and no sense, but we were happy." Anna was a schoolteacher and Jerry had recently returned from World War II where he served as a radio operator on a B-17. Starting a marriage with so little was going to be difficult, of course, but neither Anna nor Jerry knew the struggles that lay ahead.

The young couple lived with Jerry's mother, Sylvia, until their first son arrived. When 9-pound, red-headed Steven greeted the world, Jerry was a student at the University of Tennessee, and Anna had to take time off from teaching to care for the newborn. Jerry moved his family into an inexpensive house that the young couple shared with mice that roamed freely in the walls and floors.

When Steven was 18 months old, his parents were finally able to afford a nice home in the country. "I don't know who was hap­piest the day we made our trip and left 'the dump,' as we had called the old house," Anna later said. The family spent the next 14 years in that home ­before moving to a bigger house. During that time, Anna went back to teaching until their second son, Mark, was born.

Anna and Jerry worked hard to raise their boys properly. Steve was extremely intelligent, but his parents often pushed him too hard. With Mark, it was much easier. Anna said that Mark had been "a cuddly, loving child from birth." The years passed blissfully, and eventually the boys headed off to college. It was during these college years that the true struggle began.

During Mark's sophomore year at Asbury ­College in Kentucky, he received a letter from his father that Anna was sick. "I've had a bunch of problems relating to your mother's health. I've not had much time for anything but existing. It should be no surprise to you that her condition is gradually worsening," Jerry wrote. "I don't see any outward signs of healing. She has a good appetite, a sweet disposition and smile, and no pain or discomfort as yet."

The letter was dated January 20, 1982. Nine days later, on Mark's twenty-first birthday, Anna died. Mark was so distraught that he attended her funeral in jeans and a raggedy T-shirt. Jerry hasn't wished his son a happy birthday since; he doesn't think Mark was ever really happy on that day again.

I never met Grandma Anna, and I only remember seeing Grandpa Jerry twice. During my freshman year in high school, I wrote a letter to him in hopes of learning more about my family. Now, years later, we still write to each other. Grandpa Jerry is an outstanding man, a World War II veteran, and a devoted Christian. But what about Anna?

One day I was searching for something in the basement. In an old box filled with my father's things from college, I found Grandma Anna. I never knew that she was a writer, but there she was, alive in dozens of stories scrawled in notebooks and published in newspapers and ­magazines. Anna's stories were about life, friends, family, and God.

One of her stories tells about a trip with Jerry and her sons to an old house in the woods. Although the house had been abandoned for years, the excellent workmanship had left it in perfect condition. On the walk home Anna wondered, "What legacy am I leaving? When someone views the work of my life, what will they see? Will my life be nothing more than a trash pile of selfishness or will it be a treasure of love and concern for others?" I wonder if ­Anna knew when she wrote that that she would be leaving her family so soon. However, it is certain that she left the treasure she hoped to, and I found it in that box.

While reading through the contents I was amazed at Anna's brilliance, eloquence, and complete ­devotion to God. In one of her pieces, she wrote about slowly waking after an operation. As she "struggled to consciousness," Anna wrote, "I overheard the recovery room personnel discussing me. I learned then of the malignancy. I was stunned, but God reached down and gave me peace." Even as Anna neared the end of her life, her faith never faltered. "Illness may be the only way we will slow down long enough to listen to God," she wrote. "We can struggle and strain and never know the blessing that God has in store for us. We have to surrender all of ourselves and wait on God."

Nearly everything I know about Grandma Anna I learned from the contents of that box. Slowly I am piecing together a picture of my grandmother, using these letters and stories. Even though I never had the privilege of meeting her, I know that Anna lived a life worth remembering; now I can give it the ­remembrance it deserves. Anna's writing has shown me the kind of person I want to be and the kind of legacy that I want to leave.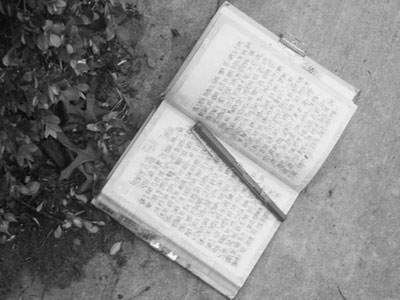 © Quinn B., Lubbock, TX