Conqueror
October 6, 2014
Fierce, strong, powerful. Nobody could ever touch him. Ever. He was a conqueror, stronger than any man, more noble than any hero. The type of man who could never die, could never be brought down, even if the odds were always against him. The one who would hold my hand, even if I felt I could go on my own.
Loving, but never letting emotions get in front of logic. He taught me everything I knew, shaped my very being. Taught me to be strong even if I felt weak. Taught me to love rainy days, the days when and other person would cringe in disgust, he showed me beauty. Strong for sensitivity, weak for sorrow. Showing by example to love, to see in my own eyes, to always do the right thing. Never put a person behind myself, but put them first. Taking the shirt off his back, he willingly helped someone in need, not caring if that put him in discomfort.
He showed me that thinking was man's greatest gift.

Walking side by side, lonely star by lonely star, we'd talk deep into the night. He'd comment on the immense stars above, the silence about us. The lone coyote calling in the distance. He showed me to love what I had, to see beauty in places the common man would pass by. A deep thinker, who pondered current events and saw life for what it was. Never letting life pass him by, never being drowned by the inevitable every day. He'd see the big picture, and through every detail he'd teach me to do the same.
Powerful, immense. Stronger than any person around. Nobody could hurt him, he wouldn't hurt anybody if he wanted to. Like a mighty warrior, he conquered the small things that pulls down the mightiest man with every day hardships. He made it through, he pulled me through. He cut the ropes of the problems dragging me under, and with a mighty arm he pulled me to the big picture and kept me above water when I felt I would drown.
He taught me to walk, baby steps first and then leaps and even gallops into conquering life. He was there when I came home from my first day of school, cradling me like a shivering puppy at my first taste of the real life. He fed me when I was hungry, held me up when I wobbled and almost fell. Woke me every morning, rubbed my back and spoke soothingly in my young ears. He'd play guitar every night, and I'd fall asleep to his rhythmic voice and magical fingers on the guitar that never stopped. Playing with me even when he was busy. Making time for me. Loving me. He supported me when I had a dream. Taught me to fight for that dream, to achieve it and conquer it. He taught me in ethics and morals what is right. To be powerful, strong, mighty, yet humble, meek, never see myself for more than I am, but never walk without power. He taught me to love God, to stay by the bible's standards and to stand up for what I believe. He showed me the right way to live, and expressed the importance of standing by them. By his example I learned to never waver from what I stood for, what I believed. To never negotiate the right thing to do.

I was going to be just like him.
My father, the highest, most principled and powerful person in all the world.
My hero.
But soon came the day when my powerful hero fell.

My model, the one who would never be hurt. I grew, I flourished under his loving care and guidance. I learned from him, imitated his meek, honorable life, and by this life learned to live. He grew. Where once he stood abroad and powerful, I saw a new pain in his eyes. And in his life my powerful hero was robbed of the gift of youth, and given the pains of an older man, even though in age and spirit, he was still young. The pains of age came before he had time to live out his youth, and he hadn't yet aged. I saw it, and I felt his pain.

The cringe he grew accustomed to whenever he stepped. Knees that seemed to drop in the times he needed them most. Breaths he took favorably, as if each use of his lungs were a privileged gift. A back that stood tall and straight now began to bend, to creak and hurt. Playful days of wrestling became more careful. And whenever I ran, jumped or fell I could see his longing glance at what used to be. And each time I'd use my knees he'd cringe, recalling his own pain. The might I saw in him before began to leave, and where once stood a powerful young man came someone in a time of need.

And in that instant I found a new passion for him.

Where one may see a man who had fallen from days of glory, I saw one redeemed. I saw a new might I had not recognized in him ever before. For despite his pains, his hardships he had not bargained for and the arthritis that seized him before his time, the smile remained. The appreciation for the small things was still there. Inside his aching body his young mind still wondered at life. And in what other people may see only sadness of what befell them, he saw opportunity. He fought, he lived, he laughed and played despite new limitations.

Now not only did I see power and might, glory and honor, but now I saw a man with a hardship that would never go away, yet in his times of hardships he still fought. He fought the pain that seized him, and he showed the world, proved to me, proved to himself, that he would not give up. In painstaking eyes and yelps of sharp strikes from muscles that never hurt before, he jumped and skipped. He saw life, he smiled at the rain falling on the windowsills, admiring the beauty of a single rain drop. He accepted this challenge, and in his own way conquered it. Never did he let the new limitations limit him from happiness. Now I saw a man who was not only a brilliant, happy person in general. I saw a man who smiled despite a hardship he would never escape. I saw a man who joked, laughed, pondered life when inside the pain was almost too great to escape. Though every night my hero would cringe, crack and cry out in pain from knees that would barely hold him up from the day's work, he still kissed me goodnight, every night.

He never failed.
And during his war, I've learned what it truly means to live life with honor. Still, with pains he could not even explain, I saw my father take the shirt off his back for another, to put himself out for others. I learned that even when it seems you cannot go on, you can never give up. A man who would get up any time of the night to come to my calls of help, even if it only meant holding my hand when I needed support, he was the one always there. He taught me to think, to reason, to love life and live it. To tell others about a time in the future when God himself promised things would be better. He extended humanity to a new level.

And still my father holds me up when I fall.
He wipes the tears from my eyes and makes me strong when I am weak.
Someday, I will be just like him. Someday, I will have his power. His love for God. His love of life, of others before himself, of humanity and happiness. I'll find times to joke when I am in pain, to make somebody smile when I may be hurting inside. I will lean on him, forever he will be by my side. The type of man who could never die, never be weighed down, never forgotten.
I will follow in his footsteps.
My mighty hero.
My conqueror.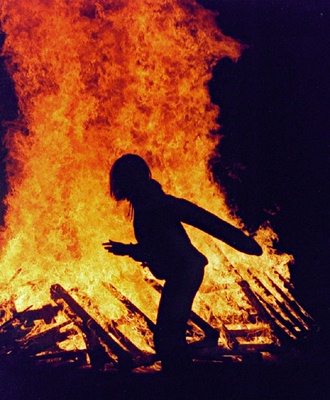 © Hali S., Robinson, IL