Lightning
July 23, 2013
I remember everything. From the days we spent laughing together to the days where we sat in the rain. Everything. At least, I used to. These days it seems like my memory of you fades and pieces of my heart with it, but you always told me to march on. It scares me in a way, not knowing what the future has in store for me these days, just like how I never saw our last day dawning; and it scares me that only a ghost of the past will comfort me. It all scares me more than I can describe.

Your voice – I used to remember it so vividly, to the point where I could still imagine you saying things, but no longer. You taught me to cherish my own voice and use it sparingly so that it could have a larger impact whenever I spoke, and to not listen to any voices which would cause harm to me. Yet you also taught me to never use my voice to curse or damn others even if they did the same to me since everyone has gone through their own journey and we should not be ones to judge them. You taught me many things over the summers we spent together, and I cherish every memory I can.

Your actions were always peculiarly care-free, and you encouraged me to be the same way. When even injuries happened to you, a smile would always grace your features as if it was permanent. With a child-like innocence you walked along – skipped along – and danced in the rain, and though you drug me around, I eventually came to enjoy it.

Our time together triumphed over everything I had ever experienced and you taught me to cherish everything that everyone else misses – everyday life. It seemed trivial at first, but you explained that everyone looks forward to these large events and gatherings while forgetting about all the magical moments which happen during their lives. We never did anything special besides spend time together whenever we could, running through whatever field or park was nearby or sitting on a bench under a tree.

Because you told me to cherish every single moment, I wouldn't trade a single minute of our time for hours of more. As much as it pains me to see you again, and as tempting as it may be, I would never forgo our previous memories in exchange for new ones with you.

These days seem like wandering roads leading to no where and places I don't want to go, they're long and hard days, but I'll put up with them. Even though times are changing and it's becoming harder to breath, I'll march on to our summer soundtrack, our memories of days long past. I wonder if you feel the same pain I do? Or is this a happiness? It's all a muddy mess now. Just like lightning, you flashed into my life and lit up my night. Now, the light is slowly fading away with only sparks left in the air.

Even though our time together physically has come to an end and mentally waning, emotionally I will never forget you. Someday soon, my memories of you will fade from my mind; your voice, and your actions – I might forget them as well. But even if this next night will be long, I will always remember that I loved you.

Farewell - no - See you later.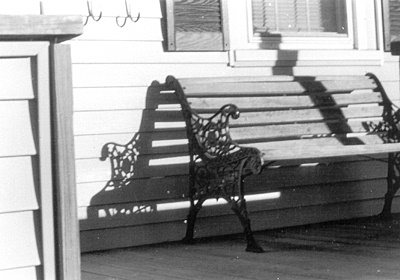 © Lauren O'D., Weymouth, MA