My Hard Working, Loving Mother
March 19, 2013
A hero is someone who is a good person that likes to help others. For example, superman likes to help others because he is a hero that's his job. There are some people in the world that like to help others. My mom is my hero because she's respectful and kind hearted. For example every time something bad happens to me she's always there to help me, that's she's my hero.

My mom was born in Mexico in 1969. When she was 14, my grandpa brought her to Dinuba. She went to Dinuba high. When it was her first day of school everybody look at her all her in a mean way. Her three years there everybody was racist to her. She got mad of all the thing that they told her. When she was a senior she gathered all the Mexicans and they all started to protest and she changed racism in that school. There was no more racism. She changed all that because she had Iron will. That's why she will always be a hero to all the Mexicans she helped in that school.

When my mom was done with high school she graduated. She got her diploma and she wanted to go to college but my grandpa didn't let her. She really wanted to go to college but my grandpa thought she would do drugs. After they discussed all of that he still didn't let her. After all that past my grandpa fixed my mom papers so now she could go to the united states and Mexico. So when she got her things ready she went back to Mexico and that's where she met my dad Miguel Aguilar. They got married, came back to Sacramento. 9 months past and my big brother was born and when she was going thru all that pain my lazy dad was at the house drinking his beer and watching the game. My mom was very mad at him then another nine months past and my second older brother was born, this time my dad came to the hospital my dad was happy seeing him he named him after himself he called him Miguel angel Aguilar JR. nine months past again and my third older brother was born his name is Juan Antonio Aguilar, then another nine moths past and that's where I was born along with my twin sister her name is Jennifer Aguilar and me Daniel Aguilar. That's why I love my mom and that's why she's my hero .

Two years past it was the year 2000 and it was my birthday but the sad thing is that my dad left us when we were 4 months for another women. I finally turned one on October 4th ,1998. Through all those years to right now my mom was there for us. She was my pretty much my mom and dad. She makes food for us and works to take care of us. My second older brother helped my mom out by changing our diaper and clothes. That's why I love her and that's why she will always me my mom. Through the years she suffered through the pain and family fights. she never left our side for any reason. Because of all that pain, she went through all the drama and that's why I'll never forgive my dad. My mom will always be my hero because of what she did for us.

My mom will always be my hero no matter what. She went through a lot of pain just for us. While my dad is in Mexico not paying his child support and that's why I'll never forget about my mom and what my dad did to her. I will always love her and she will always be my hero. That's why ill always love her and do as many things as I could to help her in the future and now .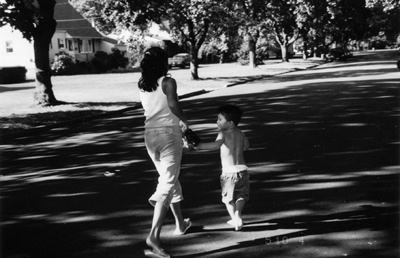 © Angelica M. Pequannock, NJ