Escaping to Love
February 24, 2013
That old pale house sitting on the side of the road is just a house to us, but to her it is a sad place. The peeling paint from the wooden sidings is no symbolism to our ignorant eyes, but to her it is the scars of her parents' marriage. The abandoned driveway is no foreshadowing to us, but to her it is the sign that her father is staying late at work again. She is the second child of four sisters being raised in a household without stability, without compassion, and without love. She is the second child of four sisters being raised in a household that does not appreciate her, or help her, or teach her. She is alone and it hurts, it hurts so very much.

The rusty trailer that sits among many is just a trailer to us, but to him it is a prison. It is small and its shades are broken. It is crowded inside with too many family members to count. He has two brothers and he is the middle child. He makes friends in the small trailer park, seven miles outside of Detroit, but they have more money then he does. They have nicer clothes and get new ones each year. He continues to wear the same clothes from the year before. He is a good student, but can't afford the uniform for the good school. He is embarrassed. He quits school and he follows his older brother's example. Things go wrong. He is different and it hurts, it hurts so very much.

Her father is the superintendent of the school and he has a secretary. This secretary becomes more than a secretary. She calls that little secretary w**** up on the phone and yells in her ear. She yells at her for taking her father away. She hangs up when the tears start flowing and her breathing gets heavy. She hates that woman. That stupid woman who stole her father. Her father and her mother get divorced and the little old house becomes more than sad. It becomes a hellhole. She is left with her distant mother and her sisters. Her youngest sister becomes her daughter. She takes care of her. Her other two sisters are bipolar and they adopt religion. She watches them as they sink into a new world. She is alone and it hurts, it hurts so very much.

When he drops out of school, he starts to lose his mind. Nothing seems to matter anymore. His mother gets scared and calls his father. His father lives in California. She sends him to California for high school. He sees his house. His house has a pool. He's been living in a trailer for sixteen years with sixteen relatives with nothing, yet his father has a pool. He hates this man. This man who has lived in a nice comfortable house without a single drop of guilt knowing his son lives in poverty. He doesn't belong here. He is different and it hurts, it hurts so very much.

They both continue living and it continues to hurt. They both leave behind the sadness when the nearest chance comes. She leaves her youngest sister in the sad place and he leaves behind his father in the comfortable house and they never look back. In the grand City of New York, they meet and they fall in love. They show each other their sadness, but they forget the past when the new memories begin to replace the old.

Now married, they begin to raise their children. They move to a small town. The house is big and comfortable. They hug and kiss their children. They spend as much time as they can with them. They love their children. They realize the small town is not good for their children's education, so they move to Boston. They want the best for their family because they know what it is like to have the worst.

As I grow up, I see my mother and I see my father and I see their struggles. Many may look at them and think they had it good. You may read part of their story that I have written for you and think, they didn't have it that bad. But to me, they are two of the strongest people I know. I watch them love my brother and I each and every day. I watch them love every single person that enters our house. Where they grew up and how they grew up has shaped my life. They grew up unhappy, yet now they fight for my happiness. They fight for me. And I love them, I love them so very much.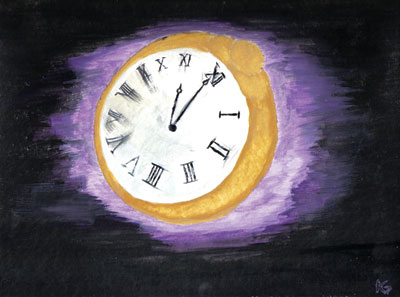 © Kyle G., Clarksville, TN