Me and Nichole
December 19, 2012
Hello I am Juliet and I am six years old. I have a friend named Nichole. She is my very best friend. We spend a lot of time together. I am so glad I have her because no one understands me like she does.
I can remember when we first met. I was in my room, crying because mommy and daddy were fighting again. But that is nothing new- they fight over everything. One day I got tired of them fighting, I crawled under my bed and in the darkness I saw something. I tried to understand what it was but I couldn't figure it out. I looked harder and figured out it was another little girl! Then I just started talking to her and she started to talk back. She told me her name and I told her mine. We talked for hours about everything, mostly my parents and how upset they made me sometimes. Nichole told me what I should do. She said I should do my best to ignore it so that's what I did. She told me anytime I needed to get away from the fighting I should just call her name and she would be there for me. She would meet me in my room and we would play until the fighting stopped.
Nichole and I made tents, played with dolls and drew pictures. We had a lot of fun together! Nichole was a really good friend and if something was wrong she would always be there to listen to my problems.
I tried to get mommy and daddy's attention to tell them I made a new friend but how ever hard I tried they wouldn't believe me. One day Nichole and I were playing in the tent we made and mommy wanted to play too. I told her she could play with me and Nichole. Mommy looked confused when I said Nichole was playing with me. She asked me who I was talking about and I told her Nichole is my best friend. Mommy said she wanted to be best friends with us too! That made me very happy. Then we could all play together.
Sometimes Mommy and I played without Nichole. Mommy will come in my room if she and Daddy start to fight and instead of fighting or yelling we get to cuddle and read a book or play with my toys.
Nichole is still a really good friend to me but Mommy is my best friend too. We spend more time together now than ever!
I am very lucky because I have TWO best friends!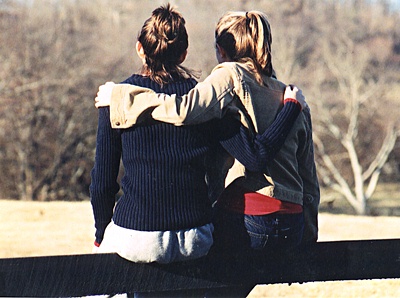 © Jaime M., Wichita Falls, TX