Father - Daniel K.
MAG
I never called my father "dad" or "daddy," he has always beenPapa to me. Nothing else quite fits. I have admired him ever since I canremember. I loved everything about him, his sea-green eyes, honest face, even hisgraying hair. It was never looks that mattered, though. He always knew how tomake me smile. His laugh would carry in the air and the sound would boom and fillthe house with joy. My dad always teased me and my sister. He stole our hearts;he was our best friend. We always used to argue over who would get to sit next toPapa in the old pick-up truck. I always won, and my head fit perfectly under hisarm. We all squished into a truck meant for only two.

At the amusementpark, my father was the one whom I would go on scary rides with. I would laugh atthe frightening parts when other little kids my age cried. When I was four wewent to a fair in Maine. When we went on the ferris wheel, it got stuck at thevery top. It must have been late autumn, I remember it was freezing, and the windwas blowing. Our seat swung and creaked. My feet dangled 100 feet off the ground,but I wasn't a bit scared with my dad there. I don't remember ever feeling moresecure. Snuggled into his warm sweatshirt, I could have fallen asleep. That's mydad: he always protected me, made life better. Once when I walked in on himwatching a scary movie, he told me the blood was cranberry sauce; I giggled andbelieved him.

I always got very jealous when my papa paid more attentionto my cousins, or other kids. I didn't want to share him. I thought it was wrongof him to push other kids high on the swings, not only me. I told him once when Iwas little that if I ever got married, I wanted my husband to be just likehim.

Even with seven brothers and sisters, my father had what sounds likea picture-perfect childhood, sneaking down to the lake to swim and playingbaseball with his brothers. I found a black and white school picture of him; hehad freckles on smiling cheeks and a bow tie around his neck. The same lovingenvironment he grew up in he provides for my sister and me today.

My dadwas a firefighter, saving lives and missing family holidays, for 23 years. Papaworked on the ambulance as well. He was captain of the station, but titles didn'tmatter to me. I didn't know what I was more proud of - the fact that my own dadheld the highest score on the pinball machine or that he was adored by everyperson in the department. I could sense this, even as a seven-year-old. The youngguys looked up to him; he was like a father to them all. Everyone respected him,but he was anything but intimidating. Anyone could talk openly with him. Even theold man who brought the firefighters doughnuts in the morning would sit and talkwith my dad over burnt coffee. With Papa, what you see is what youget.

Then my father started his own business, a septic service. Not tooglamorous, pumping crap, but I was never embarrassed. Embarrassed of what? Thefact that my father works his butt off every day so his kids can go to college ashe never did? I'd say more proud than embarrassed, wouldn't you? He also wouldwake up at 2 a.m. on winter mornings when snow fell to plow so the kids could getto school. On his way home he would plow out all the old ladies' houses and thedriveway of our tiny church. That's the kind of person he is, and though his eyeswould be tired and his hands dirty and worn, he still took the time to play gameswith us. We'd never laugh as hard as in those games. It was thebest.

Sometimes, early in the morning I would wake up and know my dad wasalready up. I would wander, dazed and tired, into the bathroom where Papa waswhistling and shaving his face. He'd look down at me and smile; he knew what Iwanted. He'd swipe his Old Spice deodorant across my wrists so I could smell thescent of my father all day.

I have spoken about my father as if he weredead, but he is not. Papa is still the same as when I was little - a few yearsolder but still wonderful. I wrote about my memories in the past tense becausethat is how I used to view him. I have grown out of my childish admiration for mydad. Now I hold back a smile at his jokes, resist his hugs, and pretend not tocare. I remember Papa always asking me, again and again, to promise him Iwouldn't grow up. I never knew what he meant until now.

Think of your ownfather - have you purposely grown apart from him? Remember how he smells.Remember how you feel wrapped in his arms - enveloped, loved, safe, accepted,protected, treasured, loved. I miss that feeling so much. I wish that I could goback and relive the years I spent pushing my father's love away. Don't wastemoments of your life, precious years, by pushing away the people you love most.When you look back, regret will kill you inside. Everything can change, it willchange.

Papa, you are my hero and I love you with all my heart. If mychildren love me half as much as I love you, then I'll be so happy.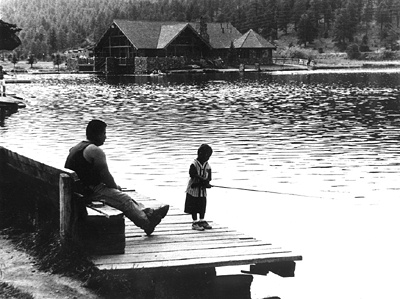 © Ryan P., Greenwood Village, CO