Sister Brooke Mashel
MAG
My sister Brooke handed me along tube wrapped in shiny silver paper. I stared in disappointment. What couldsuch an odd-looking gift be? Nothing came to mind. I thought about what I'dbought for her birthdays; Brooke had received wonderful gifts of jewelry andclothes. I couldn't think of what I'd done to receive such a tube.

Myfamily sat around the living room, waiting impatiently for me to open thisstrange package. I was trying to think of different ways to react and decided togo with the "surprised smile" look. Carefully, I took off the wrappingpaper; inside was a poster. Brooke told me to show it to everyone. I sat therewith that "surprised smile" look on my face and unrolled it; it was apicture of the Backstreet Boys. Taped to the bottom was a pair of tickets totheir concert.

When I saw the tickets, I was so overwhelmed that I startedto cry. I ran to my sister and gave her the biggest hug. I couldn't believe she'dactually gotten me tickets. I had tried forever to see them in New York City, butthe shows were always sold out. These tickets must have been almost impossible toget.

The concert was at Penn State University, where Brooke goes tocollege. So, not only did she go out of her way to get the tickets, but also myparents were going out of their way to drive me a total of nine hours. I was insuch shock that this gift came out of that odd tube. To think I had been gettingangry and frustrated about how the gift looked that I never even thought it couldbe something I would like! That was beyond selfish.

To think that I wasworried my sister wouldn't have gotten me something I would like! My sister knowsme better than I know myself in some ways. She understands what I enjoy, and whatI don't. She knows what makes me happy, and upset. The tickets just proved how mysister would do anything in her power to make me happy.

Although I don'talways get along with Brooke, fighting with a family member is a pretty normalthing. It may sound dumb, but the tickets to the Backstreet Boys concert were aturning point in our relationship. Since my sister is four years older, we havenever just hung out together. For quite a while we had our own little worlds thatdidn't include each other. We weren't enemies; we just didn't communicate. Thosetickets not only admitted me to a concert, but also to my sister's life again.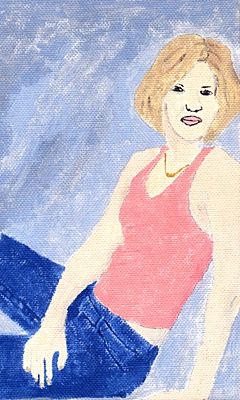 © Damon L., Purdin, MO