Colonel Andy G.
MAG
People rarely realize that this country wouldn't be here if itwere not for the soldiers who fought our wars. Without a strong Army and people willing to fightfor their country, we might still be under the control of the British - or worse. A true hero to meshould serve in the military and be a family person, which exactly describes Andy.

Andy was born in northern New Hampshire. As a kid, he was always interested in wars and theArmy. In high school, he dreamed of being in the military and was accepted to The United StatesMilitary Academy at West Point, which was thrilling.

Andy went to West Point for fouryears, then continued his education by earning master's degrees in Public Administration andPolitical Science. Andy was active during the Vietnam conflict, in which he was a Colonel. He livedin Germany on assignment for five years, and in Vietnam for one year. After Vietnam, he wasstationed in Finland for three years. This shows that he was a dedicated and flexible person whoworked hard.

Andy taught soldiers necessities, simulations and management skills. One time,he ordered men to follow ranks to the next base area, but the terrain was harsh and difficult tonavigate. With his leadership and desire to get there safely, the men strove to travel quickly andefficiently and finally made it to the base unharmed. "I thought it was pretty cool because Iwas one of the only Colonels there to help move the men," he commented.

With his yearsin ROTC and the National Guard, Andy's military service totals 28 years. Being promoted toColonel was probably his greatest achievement in the military, although he was also recognized as aForeign Area Officer, which was an exciting honor. He admits that his favorite part was to commandunits. His least favorite role was carrying out orders from those he did not respect. "It washard for me to take orders from them because I did not feel as if they had made the rightdecisions," he told me.

Today, Andy is a Training Program Director at a universitywhich means he sets up training programs for teachers. With approximately 2,500 teachers at theschool, the demand for these is high. He has always been very smart and great at his job. He is awonderful example for me because he is a great dad and husband and has inspired me.

Andy ismy neighbor, and a great one. He has a terrific sense of humor and is always making my brother andme laugh. He has always seemed larger-than-life with his positive outlook about everything:"I believe that we were meant to live for more than just getting a good job and living. Wewere also meant to give back to our world and country and help out society as well." This isexactly what Andy is doing, and he is doing a great job, I might add!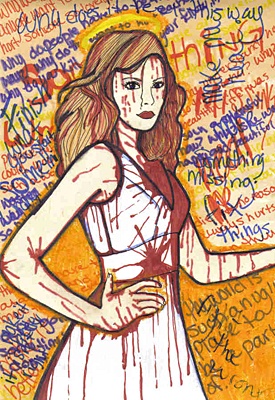 © Sara D., Aiken, SC