Actor - Peter Boyle
MAG
On December 12, 2006, I ate breakfast while watching the news. I heard the usual mumbo jumbo and then the reporter said, "This just in, Peter Boyle dead at 71 due to heart issues." My spoon fell into my Lucky Charms and the milk splashed all over my shirt. Immediately, I flashed back to six months ago.

It was a warm night and I was with my family at the Boca Raton Film Festival. Delighted, I watched Peter Boyle come up to receive his award. He gave a speech that met the audience's approval, and then a montage appeared on the screen showing clips from many of his films and television shows. It began with his famous movie, "Young Frankenstein," followed by "Everybody Loves Raymond" clips and then scenes from other movies including "Slither," "Joe" and "Taxi Driver." I was moved by Boyle's performances, and that's why I would like people to remember him.

Boyle entered show biz after leaving the life of a monk. He was born on October 18, 1935 in Norristown, Pennsylvania and after graduating from La Salle University, joined the Christian Brothers Order, a group of monks he lived with for three "effortless" years. Next he joined the Navy but left after a nervous breakdown. Boyle traveled with a road company of Neil Simon's "The Odd Couple" before landing in Chicago to join The Second City troupe. Then he found himself on the road to the red carpet.

On "Everybody Loves Raymond," Boyle played Ray Romano's father. Hilarious is the only word to describe his performance. The show itself was pure genius. In the great 1974 film "Young Frankenstein," Boyle plays the horrific title role, and in "Joe" he's a drunken redneck. These are just a few of his many great film roles that still inspire people today.

Sixteen years ago, Boyle had a stroke, and seven years ago he suffered a heart attack while filming "Everybody Loves Raymond." But the reason Peter Boyle is my hero is because of his determination - after his heart attack, he immediately returned to work. This past December, though, Boyle suffered from multiple myeloma as well as heart disease, and he died.

Hero is the title that I give this man. Through hard work he changed many lives. His bald head and bulky frame will always be recognizable features of this talented actor. Determination defines Peter Boyle. The night I met him, I received a handshake and a picture that I will always cherish in his memory.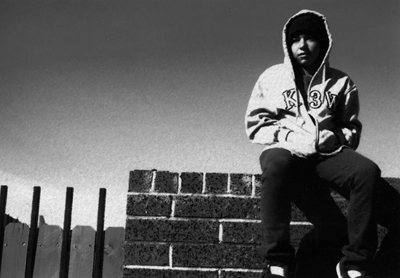 © Stan G., Phoenix, AZ