Wildlife Expert Steve Irwin
MAG
"Whatever you want to do in this world, it is achievable. The most important thing that I've found, that perhaps you could use, is be passionate and enthusiastic in the direction that you choose in life, and you'll be a winner." - Steve R. Irwin

Steve Irwin was known as the crazy man who confidently jumped on alligators' backs, wrestled with komodo dragons, and danced with venomous snakes. Some considered him a lunatic for risking his life every day to perform dangerous stunts. He brought adventure to the most boring households around the world. Yet there was more to him than met the eye. Not only did he spread conservation awareness, but his enthusiasm was contagious. His passion radiated from him and people couldn't help but notice. During the 44 awe-inspiring years of his life, Steve Irwin changed the world for the better.

He was a walking oxymoron. He was nicknamed "The Crocodile Hunter," yet he would never hurt a crocodile, let alone hunt one. He wrestled with the most dangerous animals in the world, yet his most nerve-wracking moment was his wedding. Of all the animals he dealt with, from the venomous brown snake to the ferocious saltwater crocodile, Irwin got most nervous around parrots. He once said, "Parrots have this uncanny desire to kill me. I'm not sure why, but they're like my kryptonite!" One thing is certain - Steve Irwin was a man whose goal in life was to inspire passion for animals.

Irwin's approach to conservation was quite different from others. He believed that enthusiasm helps convey an educational message. Through the use of television, he reached out to people of all ages and spread his message of conservation and love for animals. His one-on-one interactions with the animals were breathtaking and suspenseful. Even though we called him a lunatic for the things he did, his show was viewed by more than 200 million people and treasured in the hearts of all.

Steve Irwin dedicated his life to the conservation of wildlife. He worked to dispel the belief that alligators and crocodiles are vicious man-eaters. He founded a charity known as the Wildlife Warriors Worldwide with the objective of educating the public, protecting the environment, and raising awareness of wildlife issues.

Irwin also purchased over 60,000 acres of land to breed endangered wildlife. He made the Australia Zoo a world-renowned facility and popular tourist attraction. Irwin gave the animals there his utmost attention and ensured they were as comfortable as possible. He thrilled hundreds of thousands of visitors each year with one-on-one encounters with these animals that were so dear to his heart. He also ran a rescue program that helped local animals in need.

Steve Irwin was a man of passion and motivation. He dedicated his life to saving wildlife everywhere and spread his message to millions of people. On September 4, 2006, while filming a documentary called "Ocean's Deadliest," Irwin was killed by a stingray barb. His death was mourned by people across the world.

Steve Irwin's passion for wildlife will never be forgotten. His dedication to conservation will always be an inspiration. His contagious enthusiasm and exuberance will be missed. Even though he's been gone more than a year, his legacy lives on.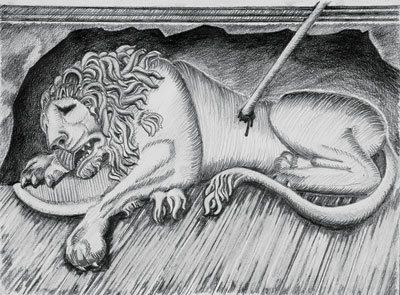 © Nick C., Boca Raton, FL