Sophie
September 25, 2012
In the movie Letters to Juliet, a young American woman named Sophie travels to the city of Verona with her boyfriend. While her boyfriend is at work meetings she goes out and explores the city. She finds a wall full of love letters while doing so. This wall is a gigantic brick wall with the letters taped onto it or stuffed into a crack from people from all over the world. The people who wrote the letters wrote them for Juliet hoping she would be able to help them with their love lives. There are a group of women who actually write back to these people. They are what you could call "The Juliets". When Sophie finds a letter from the year 1957 deep in the wall she joins "The Juliets", this way she can write back to this person. She also writes back to some of the other letters that get picked from the wall. When the owner of the letter from 1957 gets the response from Juliet, she comes to find who is the "Juliet" that answered her letter. Claire, an elderly woman, with grey hair, was the owner of the letter. Sophie, Claire, and Claire's handsome grandson Charlie, set out on a journey to find Claire's Romeo, Lorenzo. Even though Sophie goes through many obstacles trying to find the right Lorenzo, she does not give up until the right one is found and the love of Claire and Lorenzo is restored.

To me Sophie is a very special character. She sort of reminds me of myself. The way she puts others before herself is something that resembles me. She does not stop looking for the right Lorenzo even though her relationship with her boyfriend is sinking. Sophie goes through so many towns and villages to help someone else find their true love. At one point Claire and Charlie want to give up. They feel as if there is no use in looking anymore because they will never find the true Lorenzo. But Sophie was not going to just give up. She knew that they were going to find him because Claire and Lorenzo were meant to be. Charlie on the other hand, did not believe in Sophie at all. But she was not listening to his negativity and she knew she was going to prove him wrong. Sophie was not going to let some guy stop her from helping true love come together. One can only imagine how Sophie felt when they actually found the right Lorenzo. Seeing two people meet again after many years and seeing that they are still in love must be breathtaking. It would be amazing to do what Sophie did. Helping someone find his or her true love is like a dream of mine. Helping someone is something I do regularly, so to help someone to this extreme would be extraordinary. Any other person who found Claire would most likely just send her on her way to find Lorenzo on her own and go back to his/her own regular life. But Sophie made it her ultimate goal to help Claire. That is just amazing to me. You know she didn't do it for her own good because there is really nothing she could have gotten out of this. Maybe a good story to write about, but you could just tell that her main priority was Claire. After you watch this movie and see how sweet of a character Sophie is you will want to go experience something like this.

Sophie does whatever it takes to help Claire find her Lorenzo. No matter how long it takes or what she has to sacrifice in her life she does not give up. Even though Sophie's relationship with her boyfriend is in the frits she doesn't give up on her journey. Helping someone find true love whether they are young or old is such a beautiful wonderful thing, and for Sophie to be able to actually do it, that is just tremendous. The fact that this all happened because of a letter written many, many years ago is even more fascinating. Sophie has taught me that when true love comes, even if you are 100 years old, don't let it go because you will forever wish you didn't and it is very rare that you will get a second chance.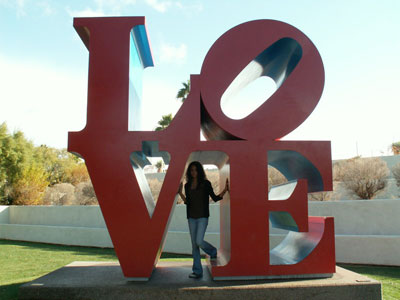 © Shannon E., Glendale, AZ