Bobber
August 10, 2012
The menacing example of nature's wrath, the Delta River—with its raging rapids, thumping boulders, and punishing weather—merely serves as a speed bump for the greater wrath of Bob. His blood pumping through his veins, his veins bulging in his arms, his arms pulling through the pain, my uncle displays his physical and mental strength in a triumph over the wild, one of many I witnessed during my week on the waters of Alaska.

Bobber, as his brothers call him (whether or not the name comes from the hyperactive fishing tool, no one really knows), discovered his passion for the untamed early on in his life. As a fourteen-year-old, he began the since-family-tradition of attending Skinner Brothers' Wilderness School, a month-long crash course that pits the naive optimism of a child against the unforgiving laws of the natural world.
This week, I am the naive child. Rather than having it tested against nature's power, my naivete is revealed through my encounters with nature's beauty: I am surprised further and further with every new mountain peak, pine forest, and white water rapid that passes by. Rather than the heavy hands of the Skinner Brothers, who punished their campers at the first sign of weakness, I learn from the guidance of a man who simply wants everyone to have the same experience he had over twenty years ago. Alaska is a special place, and since Uncle Bob's original experience with it, it has been ingrained into him; as much as he entered Alaska and became a part of what composes it, Alaska entered him and became a part of his character.

In his twenties, Bob was a wilderness race champion, a feat that entails trudging through miles of disorienting forest, on as little sleep as possible, to a predetermined destination—before the other dozens of contestants. This crazed competition in many ways represents my uncle's story as a whole. As an entrepreneur in the word's truest sense, uncle Bob took a very unusual path to success.This path has included the liberal arts and the art of evading a stalking grizzly bear, business decisions and the decision-making skills it takes to escape a brush with death, twenty feet down an ice-cold crevasse.

After we finish our day's worth of rafting, our muscles are sore and our clothes, wet. Tonight, home is a spacious campsite on a plateau, a minute's walk from the riverbank. It must be past midnight by now, but the golden glow of the sun can still be seen reflecting over the horizon of still water. With sticks that seem to have collected themselves, my uncle constructs a welcoming campfire. "Come on guys, let's warm up. Don't just sit there—that's how people die." He's only half joking. He smiles. Bent over the natural lamp, his face is illuminated by the embers that float to the sky. I detect none of the tiredness that would be expected from a body that has been through so much. Instead, the jaw is defined like a young man's, the hair is partly grey but has hints of its former color, and his eyes are wide open, scanning the flame to better tend to it. As he builds the fire, I contemplate how he built his life. His path has deviated: After a very familiar start (he is one of four brothers to captain the high school tennis team, attend Camp Kennebec, participate in Great Books, and go to Amherst), my Uncle's move to Alaska changed his lifestyle, and his career. However, he is a great example of what makes our family the way it is: with a fierce dedication to what he loves, and a careful eye set on balance as well, Uncle Bob has made a life of security, happiness, and excitement.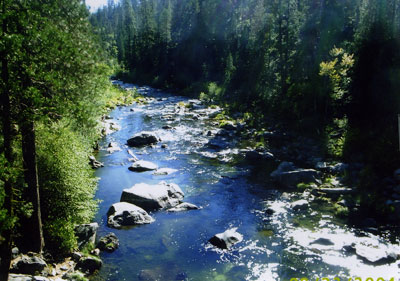 © Laycie C., Stockton, CA