I Am Proud To Be An American
July 28, 2012
"I am proud to be an American,
Where at least I know I'm free.
And I won't forget the men who died,
Who gave that right to me."
-God Bless the USA by Lee Greenwood


With gentle heads bowed with respect, silent tears, iridescent against various skin tones, tracing along the sharp jaw lines, and hands folded tightly against their laps, all those present are silent with respect. Gunshots shock the air, their metallic bang a vibration that reiterates their pain and longing for what once was a strong, young man who had enough bravery to stand his ground and protect the people and country he loved most. That young man, barely twenty years of age, lay sleeping within the red oak coffin, his image immaculate and clean-cut, as if he was the embodiment of pride that existed within the armed forces. Adorned around him was decorous flora of the patriotic colors, a symbol of the rights he had fallen for. Physically gathered around him are his friends and family; spiritually hovering over the Protector is the entire population of America, all their hearts out to him, as they chant their thanks.

I am proud to be an American for this sole reason; a reason of which those who are made in America honor all those who fight for our nation. Those men and women would give their lives to protect our own and nothing is more precious to them than to know that we appreciate their service. Their courage and bravery to run headlong against an enemy not for themselves, but for others, is a fact that is greatly appreciated by many. They, alone, had the courage to defend power and righteousness granted to few; they alone elected to fall if given the chance to protect; they alone are a select few who can battle an evil in which many would swoon at the thought. Those souls, our protectors, have a right to be honored for their sacrifice.

As a nation, we stand strong beside our military, as do we value and respect their integrity to withhold the burden of defense upon their shoulders. And, with that, we reward those that had fallen with a great sense of pride for their accomplishments. The Tomb of the Unknown Soldier has become a wonder of America as we remember all those who fought for freedom and essentially died for freedom. Arlington National Cemetery is a gift we give to those who should be remembered for their duties and their passion for the protection of an equal society. Holidays are celebrated nation-wide as a memorial service, not only to acknowledge the accomplishments of the deceased, but also their willingness to save America, as well as the world, from the damnation of tyranny and hierarchy.

I am so very proud to be an American for the national acceptance of honor we all bestow upon our military—be they beneath the earth or above. Either way, their self-sacrifice has, and will forever be, appreciated.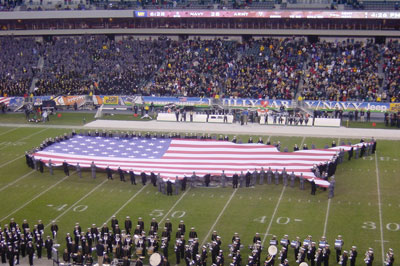 © Kristin B., Middletown, DE