School of Memory
June 29, 2012
Good role models are experienced, wise mentors who help you to clearly understand and achieve a goal in life. I'm sure we have all had at least one considerate and loving person or role model come into our lives and leave a good impression on us. I have many role models-or heroes-whom I look up to, such as my parents, teachers, and even religious leaders. My elementary school teacher Mrs. Chefan taught me many valuable life lessons which will always be inscribed in my mind. Mrs. Chefan was a thoughtful, considerate, and inspiring teacher; she was part friend, motivator, and leader. She was sometimes very strict, but loved all of her students equally. She always reminded us to try our very be at all times and to be the best person we could be. Mrs. Chefan will always be a prominent role model in my life. Everyone in my class loved Mrs. Chefan because she made learning a delightfully thrilling experience that will always stick to my mind like gum on a desk; she sparked the creativity in the students whom she taught, and helped them strive for goals that could not be bought.

Every time I think of Mrs. Chefan, I associate her with one of my favorite authors—Roald Dahl. Mrs. Chefan would always dedicate a half-hour of "circle time" each day before lunch, where she would read two pages from Roald Dahl's Charlie and the Chocolate Factory. Our entire class loved listening to Mrs. Chefan, for she read using different expressions and tones for each character. I was always fascinated by Mrs. Chefan's description of Willy Wonka's Chocolate factory; a fantastic adventure land with an unlimited supply of chocolate!

One significant value that I've learned from Mrs. Chefan is to never succumb to peer pressure. The precise words Mrs. Chefan used were, "Don't be a sheep a follow others blindly; just be yourself and be the best you can be." She once told me, "Don't do something just because your friends tell you to do it; if someone asked you to jump off a cliff, would you do that?" Of course, when I was in elementary school, I couldn't appreciate what Mrs. Chefan had told me as thoroughly as I do now. Mrs. Chefan's advice definitely helped me survive middle school!

Mrs. Chefan will always be one of my prominent role models. She is one of those unique always-fun-never-boring teachers. Mrs. Chefan is such a special teacher that no words can truly tell how much I love her for the work she does so well. I am still in touch with Mrs. Chefan, and I am glad that my little sister has her as a teacher right now. Every day when I see my sister come home with a big fat smile plastered on her face because of all the fun she had at school that day, I look back at and cherish the never fading memories of when I was a little tyke.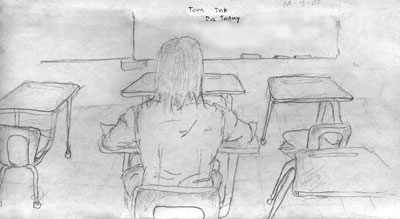 © Christopher M., Dededo, GU