The Clarks
June 6, 2012
I love to back on all the little, positive things in my life. Not the big things like "doing an exchange year in the U.S.A." or "moving into another host family". These things are overall themes and have positive and negative moments. I like to think about the short, small moments, which are easy to forget and help me realize that I am a lucky and happy person

I love to remember the second evening at the Clark's house. I was still getting used to my new three host brothers, Tom, Josh, and Michael, the two big, black and golden dogs Stella and… Hazel?, and all the other complete changes which came into my life after finally moving out from my first, not so perfect, host family. I was sitting in the corner of the living room on the right side of the old, dark brown leather couch with a Patriots fleece blanket covering my legs, watching TV. The members of my new family sat around me in one of the other two armchairs or next to me on the couch. I do not remember the exact show, maybe Gold Rush with these weird old men who have huge beards and nothing to do other than digging for little grains of gold somewhere in the middle of nowhere for four months of the year.

"Pssst" fizzled my younger host brother Josh - or was his name Tom - loudly after the first Dorito's commercial interrupted the show.
"Dang it!" was the amused answer from my new host mother Christi. It took me about four more commercial breaks to finally figure the family game out; the first one who fizzles "pssst" after a show break starts, and reminds the person with the remote to skip the commercials between the show, wins.

"Do you want a shake?" Is the next question Joshtom asked me.

"Shake?"

"Yeah, we mix chocolate ice cream with a little bit of milk and other stuff so it's creamy, and then put colored sprinkles and chocolate chips on top of it so that you can eat it nicely. "

"Ahm, ok. Sure!"

"Well, then it is your turn to make it", continued Joshtom.

"Josh, don't be mean", interrupted Michael, "He's just kidding. We are going to play rock, paper, scissors and the loser out of three games has to make the shakes".

It actually didn't make a difference for me because I lost, of course. Christi, my new host mother and the only other women in this household helped me and through this situation I got to know some of the first family conventions.

But there are other little, more general moments I like to remember.

I love it how my host father's dry jokes always confuse me, like when he said in the end of February something like: "Oh, Whitney Houston is dead?"

Every body starts to smile because it is the thousandth time that the speaker announced it on the radio but I am the only one responding "Wait, you didn't know that? Didn't that happen a week ago? Ahm, what?" until he turns around smiling at me in his mischievous, docile way.
I love it how Josh answers "Yeah, man" without hesitation to his classmate's question about whether he likes having an exchange student in his house without me telling him that he better give the right answer.

I love it how Tom, with his 10 years, goes around the dinner table saying: "I love you mom. I love you dad. Ahm, I would say I love you Luisa, but you are not the same DNA, just part of the family. So let us say I like you Luisa."

I love it how my new Labrador, Stella, always lays on my bed when I come home, even though she knows that she is not allowed to, looking up with her dark brown and sad eyes when I enter the room and knowing exactly that she is way too cute to make her leave the room.
I love it how Hannah, Michaels's longtime girlfriend, came up to me after my second week in their home, after having only met her three times, with a bracelet and a "Dream" stone from the Grand Canyon as a souvenir just like everybody else.

I love to stand forgotten in front of the school for an hour in the middle of February, realizing that I am lucky to have a warm coat, and being told that this now makes me an official member of the family.

The only thing I have left to say is: Keep going.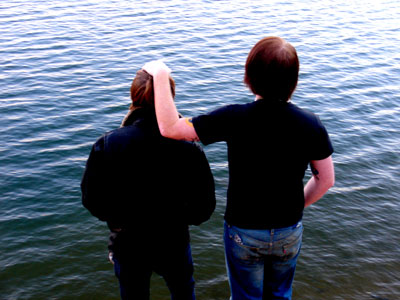 © Michelle B., Blairsville, GA