Wandering Minds
June 1, 2012
"As you see the substitution postulate can be used in many circumstances…"

There I am, in my little corner of the room, zoning out like most people in the class. I look towards the back wall, and there I find a medium sized blond boy. His hair: short with apparent lines of direction angled in a clockwise fashion. His skin: pale like a glass of eggnog under its foam. He is wearing his usual running pants and (of course) a t-shirt. His dark olive eyes have the look of wonder and wander that they had when he was in his own world. He has the childish smile that he does when he is thinking about, probably, a walrus named Monkey sitting on a cloud eating pineapples. Not to mention, his quiet humming of Led Zeppelin.

"The reflexive property may seem obvious but can be a very useful tool…"

I look out the window to allow the light to seep into my eyes and emerge my thoughts, flooding my mind—allowing it to roam without restrictions. For whatever reason, the blond boy comes back in my head. I remember the time when we all got our first math test back (most of the class failed) and crazily, he got a 94%. He didn't brag, he didn't boast, he simply took his victory with a jokey smile and couple funny jokes. On all of his tests he does exceptionally—even with his limited studying. How on earth can such a brilliant boy be—

"Hahaha!" Our teacher cries in hysterics. Everyone snaps out of their trances, and, open eyed-jolt forward.

"What, who, what happened, what's going on, huh?" the class erupts.

"Do what you were doing again," our teacher says to the boy. We all turn our heads and to our surprise we see this blond boy following the ceiling fan in the room as if he was a dog chasing his tail. Round and round we go watching this thirteen-year-old enjoy his carousel ride. Naturally, we all break into lawless laugher. Especially the blond boy, he handled this just like he handles everything else: a laugh, a shrug, a smile, and a couple witty jokes.
Eventually after minutes of commotion order resumes and the lesson continues. I look around and see a couple kids trying to imitate the revolutionary entertainment technique discovered, but none could do it so seriously and passionately: only my blond friend has the majestic grace to follow a ceiling fan. I look over to him to find a boyish smile and his unfocused gaze nowhere near the front of the room.
"What's the answer?" our teacher proclaims catching him off guard.
"The transitive property?" he responds still with his smile.
"Correct…" she murmurs filled with amazement and disbelief.
Everyone was surprised (including the blond boy). None of us had the skill to completely zone out and still get the answer right.
"Nice work Pete," I whisper to myself.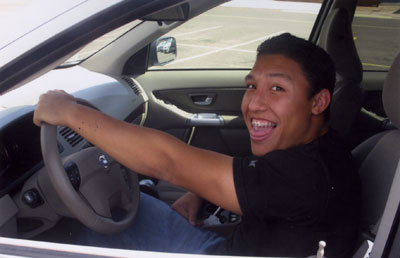 © John H., Phoenix, AZ