A Hero in a Losing War.
January 23, 2012
Cancer is a horrible thing. It is more than a horrid disease with no real cure, and it effects more than just the cancer patient's life. Cancer affects the victim's family and friends as a whole, assaulting their emotions as their hearts cry out for the ones they love. And I should know. My mom was diagnosed with cancer this past September. I had to wonder, would my rock whom I leaned on for love and support crumble?

It's a life altering thing, cancer is, and no matter how I tried to treat her the same, keep something normal in the change of things, I couldn't help but ask myself, "What if cancer won?". This thought hunts me even now. I try to stay strong, be that unyielding force of strength, but she sees right through my façade. Forever etched in my mind is a simple memory, ironically from last week. My mom came home from her first of many radiation treatments and as the side effects took their toll, there was nothing for me to do but helplessly watch my mom rush to the bathroom overcome by the nausea. Throughout the house the sounds of her endless retching echoed. Supplying her with a constant supply of water, trying to help where I could, I was useless in this losing battle. As I stroked my mom's hand while she lay prone on the couch, she began to pray. She prayed for me. Me? Here she was enduring an experience that I can't imagine and she was praying for me? Silent tears spilled down my face as I watched this woman who spilled over with love and compassion for her children, for me. What kind of courage did it take to be so strong? I may never know but I will forever strive to be like her.

My mother's bravery in the face of her battles has and will forever have a tremendous impact of my life. My mom has reminded me that I must pray in my hard times and not just for myself. No I must pray for everyone. I used to assume my mother would be there for all of my softball games, to cheer for me, now I have to wonder whether her health will allow her to leave bed that day. I must not be selfish, but have courage. And maybe, just maybe, I can impact someone else's life, like my mom has impacted mine.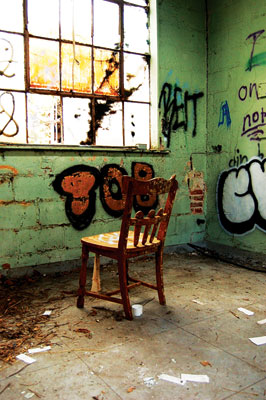 © Gianna V., Sewell, NJ