Run to the Finish
November 28, 2011
Keep going! Don't give up! I hear those words as I try my best to get to the finish line. I feel my legs starting to move a faster pace. I tell myself that I am almost there, and finally I make it to the finish! I hear the cheering of the audience, and realize that I made it to the end. But the voice I can hear best of all is that of my hero saying, "You did it!"

The person who is always cheering for me is Staci. I first met Staci when I was nine years old when she came over to babysit me. As a little kid, I never really enjoyed having a babysitter because I never had any fun playing with them.

When Staci came over, I remember she asked me how school was going, and what I enjoyed doing. She really understood me and always listened to what I had to say. From that moment on, I knew that I wanted to be just like her someday.

After a couple of years had passed, I was starting a new sport, track. I couldn't wait to join knowing that Staci was the captain of the team. When we ran as a group, Staci would lead us, saying, "Nice job, ladies!" and "Keep going!" She always stayed back with anyone who was slowing down and encouraged them to run to the end. I could tell that Staci was a true leader.

After weeks of practice, it was time for our first track meet. The day of the track meet didn't go very well because I felt like I hadn't accomplished anything, having not won the mile race. I went to practice the next day feeling depressed. Staci came up to me asking how I had done. I replied sadly, explaining that I wasn't even near winning. Staci replied with a smile, saying, "It doesn't matter if you won or not because all that you can give is your best." After clicking that thought into my mind, I really understood that that was the truth.

When I pushed to beat my personal record time, Staci was there to cheer me on. It really paid off in the end because she helped me reach that goal. She was always pushing me to do better, not only in track, but in life.

At first, running to the finish was a struggle. Then Staci came along in my life. She is my role model, leader, friend, and most importantly, my hero. She never gives up and is a strong leader. She has always pushed me to keep going in life and put others before myself. I hope to be a hero someday just like her, encouraging others to do their best, and run to the finish.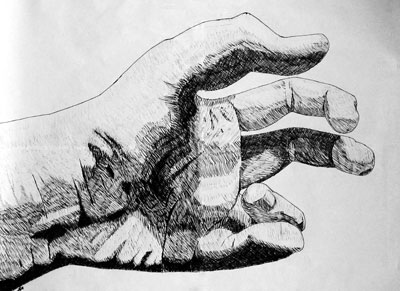 © Luke S., Montclair, NJ