"Think Happy Thoughts"
November 29, 2011
"Think happy thoughts Nana!" I exclaimed. "Get up; come look what I did to the house!" As her tall frail body slowly climbed off the bed, she gave me a skeptical look. When she walked out of her bedroom her blue-green eyes could only see glitter. Every color of glitter imaginable covered each square inch of the entire house. "If we think happy thoughts, we can make the house fly, like in peter pan!" Nana always told me if I set my mind to something, I could do anything.

Soon after I was born my mother needed someone to baby-sit for me, she had me at a young age, twenty years old; she was trying to put herself through college; hold a job; and maintain a good social life all at the same time. One day at a book store in Houston Texas, my mom became acquainted with a kind gentleman named Roland Taub, They began talking about the need for a baby sitter when Roland said his wife Carolyn would love to do it for a few months. Eighteen years later she is still in my life, and she is my whole world. Nana is the reason I am who I am today. In my opinion I believe myself to be a very presentable, intelligent person. She taught me everything, I learned to read at a very young age, and learned to do things that other children could not do so early on.



Every day my Nana taught me something different, before I even remember being in school, I remember reading chapter books, tying my shoe laces, learning to tap dance, learning math and even multiplication! All of my memories have come from Nana and Pops house; I always did something new and interesting to become my own person. I made "contraptions" and gave them to nana for her benefit. For example, one day I made a snail out of pipe cleaners and told her that if she hung it up on the rear view mirror of the car, it would keep the slugs from attacking her, and she humored me and enthused me every step of the way, not ever telling me no. Except the time I put make-up on the cat. I learned the things that were right and wrong, and the things that were creative and special. There are so many amazing things i could say about Nana; things that would make anyone laugh or cringe or cry; the biggest message i want everyone to know is that she shaped me into an amazing person and i couldn't be more proud of her or inspired by her.

Today, Nana is in the hospital with lung cancer, she is my inspiration for everything I do. Since I could walk and talk she always said "Spirah, I know you're going to go to college, and make wonderful grades, and be somebody great." I told myself that I would do it for her and for me, and I will hold that promise forever. This amazing woman has shaped me into the blossoming person I am today, filling my head with optimism and knowledge, I know I will continue to grow and learn because of her. Not long ago, I went to visit her in the hospital, she was hooked up to all these machines and tubes and as I tried to hold back my tears she looked me in the eyes and said, " I will never miss you and you should never miss me, because I'll always be with you." I'll hold that in my heart forever.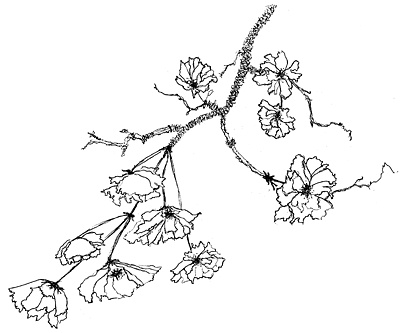 © Marybeth L., Hamilton, NY