Let go, but don't forget
November 27, 2011
The house was bulldozed in the name of progress. Yet in its day, it was the distillation of the American Dream – a three bedroom ranch home built in a prairie town 25 miles west of Chicago by way of the Burlington Northern railroad. Clad with clean white siding and Kelly green shutters, it could have sat in a number of Midwestern states, but it sat neatly in Clarendon Hills, Illinois where daisies ran the town.


When freshman James O'Conner rode the train home from North Dakota State, he gaped out the window as the engine pulled him through the infant suburb. where the air tasted like hope and homes were set wide like the prairie so young families could grow. These trips made him hungry to escape the south side where he was born and raised; he longed for better than his mother and mercurial father Patrick could give them. They could give James and his three sisters nightmares, beating the family when Pat drank himself sloppy, lost the familys rent playing cards, or became enraged at the multiple sclerosis that consumed his body.


At eighteen with raven curls, blue eyes, and a pixie's twinkle, James only dreamed that his life would blossom like the wild daisies that enveloped his paradise.
Less than two decades later, the dream became a reality. James and his Serbian bride Dorothea bought a lot and a half at 128 Woodstock in Clarendon Hills where they raised Kate – and ultimately Savannah Jane- the best anyone ever could.


And that is where the real story began: At sixty-three, he'd already stood at the front lines of seven years in combat with The Big C. James was no longer a ballplayer, a salesman at The Southtown Economist, or a father, really. He was "Dada," the grandfather of his first grandchild, Savannah Jane O'Conner. Born to Kate, his twenty year old daughter and dropout turned waitress from the Journalism program at Northwestern University. Cain Saldana, a twenty-seven year old part-time laborer whose "Other Than Honorable" discharge from the Marine Corp and love affair with the bottle were the ironic, modern day embodiment of Patrick's O'Conner. Through the eyes of four-year-old Savannah Jane, "The Child," as he reverently called his granddaughter, Dada was the only father she knew and her own personal firefighter that came back and saved her every time.


Tip-toeing across the wood floor in her footie pajamas, stuffed animal in hand and a sleepy daze lingering in her eyes, the child poked her head around the corner and peered into the living room. Sitting with his legs strewn across the floral couch with the Tribune open to the Bears Monday night recap, the sun's graceful light fell over his back, and he met the toddler's sneaking gaze with a warm smile and "Good morning, SJ!" She hurdled over the fallen articles and landed in his lap, squeezing her freckled arms around his neck and planting a kiss on his forehead.


Their mornings were quiet, filled with warm oatmeal and a note from Savannah's mother left on the table each day, promising love, "past the moon, past the stars, past the sun" and a goodnight kiss when she got home. Channel 11 and cushion forts followed before the wee one slipped under a worn daisy quilt knitted a generation earlier by James' mother.

When she awoke, O'Conner sat her on the kitchen counter and constructed messy peanut butter sandwiches on pumpernickel bread while discussing Barney, Frank Sinatra, easy-bake ovens, and Notre Dame Football. Once their plates were empty and fingers were sticky, Dada brushed the girl's dark hair into the most perfect ponytail the hands of a QB could manage. On any given day he picked out her shoes, packed her lunch, put her to sleep and played house because it was what she needed. In the fall, they bundled up in jackets, Savannah Jane's violet and gold adorned with flowers and his weak grey. They walked hand-in-hand down the block to the park, leaves crunching under their Velcro shoes. He caught her at the bottom of the slide, taught her how to pump on the swings, and made daily conversation with adoring stay-at-home mothers until hours had slipped by and it was time to make their way home. Dada carried her back in his arms; chapped nose snuggled against his cozy red flannel with her fingers locked around his neck in a hug that they wished was unbreakable.

They coasted into the driveway, knowing Nana Dorothea was home from work in Chicago and already busy with potatoes and steak and clean dishes. James and Dorothea's love belonged in a fantasy: romantic, powerful, passionate, and immortal; it was enviable, almost tangible even in their everyday conversations about the average tasks of life. His body was strong, sturdy, built to protect, and she melted against him.

The three of them sat around the table and to Savannah Jane life looked beautiful, love seemed easy, and the good guy always won. She knew that every morning when she awoke her best friend would be in the living room reading the paper, waiting with a hug and the love every little girl deserves. What she didn't know, was that love lasts but physical bodies deteriorate - so quickly that it isn't possible to recognize them when it's time to say goodbye.
Then Savannah Jane was seven and James was sixty-six. He was beaten from the inside out, resembled a carcass, but wore the same steely determination in his eyes and snuggly flannel, evidence that the spirit of the man remained regardless of the playing field. The pair was still inseparable. When SJ hopped off the school bus she would drop her backpack and sit at the foot of his sick bed to watch Arthur. Other times they fumbled with jigsaw puzzles in cold, intimidating hospitals, and the girl swore to him that she loved cafeteria food so he would swallow one more bite. He still made her laugh harder than anyone in the world.

On the eleventh of January "in the year of our Lord 2001," I passed in our own home, still smelling the hope strong as ever. Three days later Kate and Savannah reminisced with the crowd in black and likened me to The Gipper who reminded them all to fight even "when your back's up against it." Although she reveled in each story about her grandfather, Savannah Jane O'Conner in her royal, velvet dress with a weak silk flower pinned to her chest was my true legacy. I had nurtured her, inspired her, and taught the child how to live: Have faith that there are people who care; share love, appreciate life, "trust in the Lord," and let go without fearing you'll forget.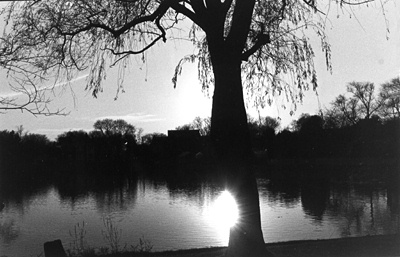 © Chuck K., Marblehead, MA